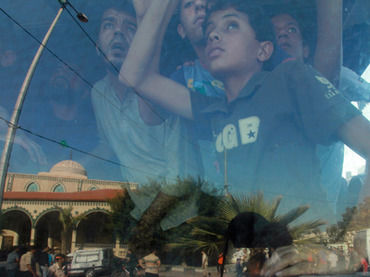 Hundreds of people watched but did not intervene
as a gang of Israeli youths attempted to "lynch" a group of Palestinian children in the center of Jerusalem's Zion Square, police said on Sunday. Five suspects have been arrested so far.
­Four Palestinian youths were badly beaten in the incident in central Jerusalem on Friday. The attack was short and the gang fled after knocking one victim to the ground and kicking him unconscious before police arrived.
There were several dozen attackers, according to witnesses, who say that
the Jewish youths were shouting "death to the Arabs"
and seemed to be on the hunt for Palestinian victims.
Some witnesses described the attack as a "lynch," while Israeli authorities claimed the attack was a typical brawl between Israeli and Palestinian young people. However, on Sunday, police called the event a "lynching,"
Haaretz
reports.
Comment:
See
Horror: Jewish teens lynch Arab youth in Jerusalem
, which includes an eye-witness testimony leaving no doubt that this was a lynch. It was the Israeli media and authorities who decided after the fact that "brawl" would sound a little better to Zionist ears.
Hundreds of people watched the assault but did not try to help the victims, a police representative said on Sunday.
"The victim lost his consciousness and was thought to be dead until [an emergency paramedic crew] arrived and resuscitated him,"
Haaretz
cites Sergeant First Class Shmuel Shenhav as saying. "For several days he was anesthetized and artificially ventilated in the hospital."
"This was an extremely severe crime," he added. "Only a miracle saved him from death."
Jamal Julani, a 17-year old Palestinian, still remains in serious condition in the intensive care unit at the Hadassah University Hospital. He regained consciousness but does not remember details of the event.
His two cousins, who suffered medium injuries, explained that the incident was extremely brief, as police arrived quickly and the perpetrators did not have much time to beat them or the unconscious Jamal.
Four teenagers
between the ages of 13 and 15
were arrested Sunday in connection with the attack. Another suspect was arrested shortly after the attack on Friday.
A special investigation team has been set up in an effort to find all the perpetrators, and police believe further arrests will follow.