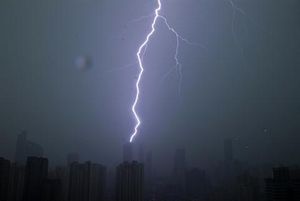 Five people, including two children, were struck by lightning and seriously injured Monday at an adventure park in the Pyrenees in southwestern France, a local source told AFP.
The three adults and two children aged four and 14 had to be taken to hospital after the incident in the commune of Argeles-Gazost, while 25 others suffered lightning shocks.
The lightning struck cables at the adventure course just after park officials had begun evacuation procedures because of the weather, said the source, who spoke on condition of anonymity.
In an incident Sunday, two women in a group of eight were struck by lightning while walking along the beach on the island of Oleron off the Atlantic coast of France.
One woman suffered a heart attack, while the other remained conscious in hospital.