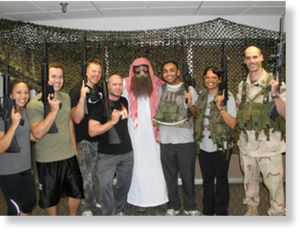 Ever wanted the chance to assassinate a notorious terrorist? A former Navy SEAL is offering anyone with $325 the opportunity to do just that as part of the 'Navy Seal Adventure' mission.
­The Minnesota-based Sealed Mindset Firearms Studio, an industrial center-turned-paintball range in New Hope, allows participants to recreate the assassination raid on Osama Bin Laden's hideout.
During the two-hour reenactment, anyone can pretend to be a US special forces soldier, proprietor and former Navy SEAL Lawrence Yatch said. Participants are given an 'intelligence briefing' before suiting up and firing live rounds from an AR-15 for practice, and to get the bloodlust flowing.
The trigger-happy shooters are then armed with paintball rounds and loosed into a 10,000 square-foot studio to seek out 'Osama Bin Laden.' The operation culminates with their bursting into a room where they are met by none other than the terrorist mastermind, or rather, a man dressed to look like him, sporting a fake beard and body armor.
One patron described the experience as "exhilarating" to local news station KSTP. "This is so cool! My adrenaline is like so spiked right now!" they said.
The 'Navy SEAL Adventure' is the brainchild of ex-SEAL Lawrence Yatch and his wife, who maintain there is more to the experience than just the thrill of shooting the world's formerly most wanted terrorist.
"The biggest thing we're trying to accomplish is giving people a sense of empowerment," Yatch told KSTP.
'Better than dinner and a movie'
Sealed Mindset Firearms Studio also offers a romantic date package they boast will bring "the sexy back to your relationship with dinner." Couples are treated to hors d'oeuvres and dinner, before taking to the shooting range for a "personalized couples shooting session."
"Date night changed my life. Before date night, the thought of guns or even talking about them upset me. During date night, I had one-on-one exposure to handguns in a safe environment," a testimony on the company's website reads.