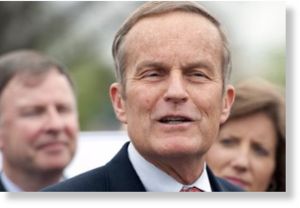 Sen. Claire McCaskill's (D-MO) Republican opponent says that the federal government should stop helping to feed needy children with the school lunch program.
Speaking to reporters about the farm bill on Thursday, Senate candidate Todd Akin called to cut off the federal funds used to feed about 650,000 children in Missouri each school day.
"Is it something the federal government should do?" Akin said. "I answer it no. ... I think the federal government should be out of the education business."
"The problem with the Senate farm bill is the fact that you've got 80 percent of it that isn't a farm bill at all," the Republican noted.
Since being elected to the U.S. House of Representatives in 2001, Akin has never voted for a farm bill - which authorizes the school lunch funds - and he advocates eliminating the Department of Education.
"The notion that the federal government should stop giving support to help feed children is a nonstarter with me," McCaskill said on Thursday. "It is not like our schools are sitting on piles of cash right now."
Missouri receives about $179 million each year from the federal school lunch program, which has enjoyed bipartisan support for years. The program feeds 646,000 children, about 400,000 of which have a family income low enough to receive lunches for free or at a reduced rate.
Source: Raw Story
Highlights
"Research shows that when a child's nutritional needs are met, the child is more attentive in class, and has better attendance and fewer disciplinary problems," according to the Food Research & Action Center. "The National School Lunch Program meets the nutritional needs of children by providing a nutritionally balanced meal that contains one third or more of the nutrients they need each day."
"In 2011, more than 31.8 million children each day got their lunch through the National School Lunch Program" - a federally assisted meal program that is currently "operating in over 100,000 public and non-profit private schools and residential child care institutions." Under the measure, "children from families with incomes at or below 130 percent of the poverty level are eligible for free meals," while those "with incomes between 130 percent and 185 percent of the poverty level are eligible for reduced price meals, for which students can be charged no more than 40 cents."
thinkprogress.org
U.S. Sen. Claire McCaskill, D-Mo., accused Republican challenger Todd Akin of being insensitive to the needs of poor school children and farmers in Missouri after Akin said he opposes the federal school lunch program.
news-leader.com
The House Agriculture Committee has marked up a "compromise" version of this year's farm bill - but it includes cuts to food stamps and the school lunch program. According to the Congressional Budget Office, such reductions could knock 280,000 children off of the free school lunch program. The Senate has adopted a farm bill, but the House has yet to move its version to the floor.
thinkprogress.org