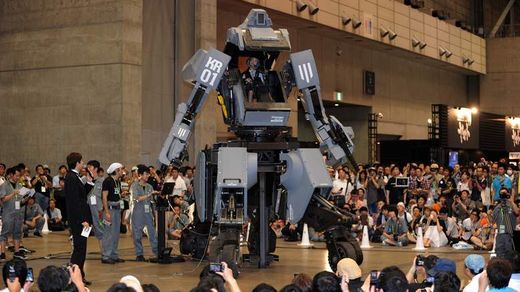 A massive robot that can carry a seated human pilot - and is armed with twin gatling guns - has gone on show in Japan.
Kuratas is described as the world's first giant boarding robot, no doubt inspired by the "mechs" of Japanese anime and manga comic book culture which features human controllers inside a walking vehicle.
But Kuratas is different in that it offers two types of control system.
The robot can be piloted directly, or remotely by a user connected to a 3G device such as a latop, tablet or smartphone.
The firm that made the robot, Suidobashi Heavy Industry, even released a tongue-in-cheek video showing
how to operate the robot
.
It was unveiled to the world at the Wonder Festival in the Tokyo suburb of Chiba.
Kuratas, which is referred to as the Vaudeville project in a
promotional video
, has two humanoid arms and four wheeled legs - and twin six-barrelled gatling guns - which fire BB-sized pellets at the rate of 6,000 rounds per minute.
According to Suidobashi, the weapons are fired when the operator smiles - a system known as "the smile shot".
Onlookers immediately likened the presence of the guns to the bipedal ED-209 from Paul Verhoeven's 1987 movie Robocop.
The Enforcement Droid was being presented to a board meeting when it malfunctioned, fatally opening fire on a hapless young OCP executive called Mr Kinney.
There was no such mishap at the Wonder Festival, and the robot was even allowed out onto the streets of Tokyo, where it was seen being driven through the traffic powered by a diesel engine.
The device, which travels at just 7mph, can be set to move in a low or high position to enhance the pilot's field of view.
It also features a Lohas launcher - which fires bottles of water - and Iron Crow hands and "feet".
The robot is huge - measuring four metres in height and weighing four tonnes.
But it also comes with a suitably huge price tag, setting potential purchasers back $1m (£637,000).
However, anyone wanting to buy one of the custom-built machines does have a choice of colours - including pink.