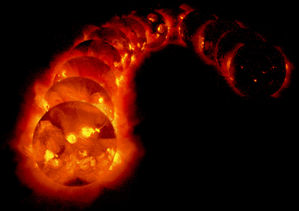 Cases of lightning strikes in Uganda and world over will increase as the sun completes its solar cycle in 2013, a Makerere university physicist says. StoryCases of lightning in Uganda and world over will increase as the sun completes its solar cycle in 2013, a Makerere university physicist says.
Over ten people have so far been struck dead by lightning in the districts of Mitooma, Buikwe, Alebtong, Jinja, Kaliro, Agago, Amuru, Kabarole among others and the cases of lightning seem to be rampant today compared to past years.
In an interview with Uganda Radio Network, Benon Fred Twinamatsiko, a physicist at Makerere University department of physics says that lightning is rampant today because the sun is maximizing its 11th year solar cycle.
He explains that in the process of completing the cycle, the sun emits gases into the earth, which cause enormous electrical discharge. He adds that the discharge causes imbalances between positive and negative charges on earth and clouds leading to lightning.
Twinamatsiko says that the solar cycle which takes 11 years will end in 2013 and when it's about to end natural calamites like floods, lightning and earthquakes frequently happen.
He explained that lightning strikes target unprotected buildings with no lightning conductors, trees, stepless grounds and when a person is found in such places at a time of rainfall it becomes easier for their body to work as a channel of lightning and are easily struck dead or paralyzed.
Twinamatsiko says that scientists have linked lightning to rainfall and there is no research available proving that lightning could occur without rain.
Some traditional and superstitious beliefs link lightning strikes to witchcraft, a claim dismissed by Twinamatsiko.
Twinamatsiko advises people to avoid sheltering under trees during rainfall, wear rubber shoes and install a lightning conductor on top of their buildings.
State minister for disaster preparedness, Musa Ecweru, while reacting to lightning strikes last week, blamed engineers for constructing and approving buildings that do not have safety features such as lightning conductors and wind breakers.
He said that the ministry plans a mass sensitization on how Ugandans can safeguard themselves against the catastrophe.
Joseph Mukasa, a resident of Kampala says that the government should draft and enforce a policy where every school and public places are obliged to install the lightning conductors to save lives.
According to United States National Lightning Safety Institute, an estimated 24,000 people are killed by lightning strikes around the world each year and about 240,000 are injured.