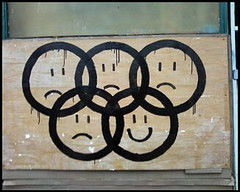 A man arrested during the Olympic cycling road race says he was detained for "not smiling".
Martial arts trainer Mark Worsfold, 54, was arrested shortly before cyclists passed through Leatherhead on July 28 due to "his manner, his state of dress and his proximity to the course", according to police.
But Mr Worsfold, who had been doing a Taekwondo demonstration in Red House Gardens, said officers told him he was arrested because he was not smiling - and he added that his face can seem expressionless due to his Parkinson's disease.
"I was sitting minding my own business," he said. "Before I knew anything the police grabbed me off this seven-foot wall, threw me to the floor and cuffed me so all I saw of the cycle race was between the feet of people from the pavement."
Mr Worsfold was detained for five hours, and his wife only found out where he was after reporting him missing when he did not turn up for his daughter's birthday party.
He told the
Advertiser
he now sees the funny side, but as he was wearing his logo on his uniform he worries it may affect his reputation and has asked for a letter of exoneration from police.
Surrey Police said Mr Worsfold, from Ockham, had a legal folding knife and several rubber knives on him, which they accept were used for his display, and the officers who made the arrest apologised to him.
Chief Superintendent Gavin Stephens said: "In the interests of public safety, officers acted quickly and decisively based on the information available to them."