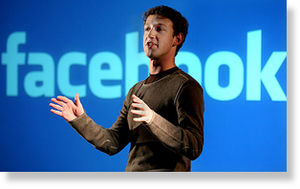 Facebook's Mark Zuckerberg,
who owns 503.6 million shares
of the world's largest social network, has lost about $9 billion since the company went public in May.
The 28-year-old co-founder has seen the value of his company fall by nearly half since its initial public offering at $38 per share.
On Thursday alone, his fortune fell by $423 million when the stock price reached a new low of $20.04.
At market close Thursday, Zuckerberg was worth $10.2 billion, according to the Bloomberg Billionaires Index.
That knocked him out of the top 10 for richest technology billionaires,
according to Bloomberg
, putting him $400 million behind James Goodnight, the co-founder of software maker SAS Institute Inc.
Facebook's stock picked up Friday morning. At the time of this writing, shares had increased 4.8% to about $21.