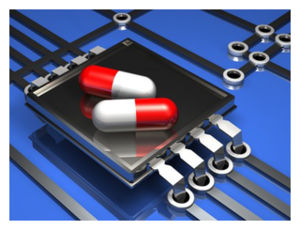 Rumors regarding the development of a 'digital pill' with a microchip inside have been circulating for some time, but today, the FDA actually green lighted the product.
The company, Proteus Digital Health,
gained FDA approval
for its 1 square millimeter device (the size of a grain of sand), which it believes will "shift the care paradigm" into an era of digital medicine.
According to Proteus Digital Health's website:
Digital Medicines are the same pharmaceuticals you take today, with one small change: each pill also contains a tiny sensor that can communicate, via our digital health feedback system, vital information about your medication-taking behaviors and how your body is responding.
The company added "As a result, you can be sure you're taking your medicines as prescribed, while at the same time receiving unprecedented feedback on your physical response to treatment."
The aim of the "ingestible sensor" is to electronically verify patient compliance in taking the medication. Proteus Digital Health estimates that over 50% of patients do not get the full benefit from the pharmaceuticals they take because of taking the wrong dose or taking the medication
Here is how it intends to work:
The Proteus ingestible sensor can be integrated into an inert pill or other ingested products, such as pharmaceuticals. Once the ingestible sensor reaches the stomach, it is powered by contact with stomach fluid and communicates a unique signal that determines identity and timing of ingestion. This information is transferred through the user's body tissue to a patch worn on the skin that detects the signal and marks the precise time an ingestible sensor has been taken.

Additional physiologic and behavioral metrics collected by the patch include heart rate, body position and activity. The patch relays information to a mobile phone application. With the patient's consent, the information is accessible by caregivers and clinicians, helping individuals to develop and sustain healthy habits, families to make better health choices, and clinicians to provide more effective, data-driven care.
What are the unintended, adverse health effects of this technology? Has it been sufficiently safety-tested? These are questions that remain largely unanswered, but have already been raised in connection with other proposed
RFID technologies
intended to be implanted within the human body.
The Bill & Melinda Gates Foundation, which has recently come under criticism for their financial support of GMO agriculture, '
edible
' and 'flying' vaccines, pesticide-laden traditional scarves, and other questionable technological interventions ostensibly to reduce suffering, are also
prominently figured partners
on the Proteus Digital Health website.
The European Union was the first to approve Proteus' system device in 2010, indicating the market for the technology is global.