An Olympic rower for Australia was arrested by police after a shop front was damaged, officials said today.
Joshua Booth, 21, then fainted and hit his head while at the local police station and had to be taken to hospital for a check-up.
Booth, who it is believed may have been drinking, competed in the men's eight rowing event yesterday, but his team failed to win a medal.
He was arrested early today following the incident in Egham, Surrey. Booth must return to the police station tomorrow.
Nick Green, Australia's Olympic Commission chef de mission was called from the police station at 3.30am with the news that one of his team's athletes was under arrest.
Mr Green, speaking at a press conference in the Olympic Park, said: "At about 3.30 last night I had a phone call, we had an unfortunate incident.
"One of our rowers, Josh Booth, from the men's eight, has got himself in some trouble.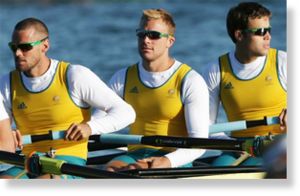 "He was detained by the police last night for damage to a shop front.
"He was then taken to a police station. He fainted while he was there and hit his head at the police station and was taken to the hospital for precaution.
"He was released from the hospital and is now back in the rowing village, rowing centre accommodation.
"He was released as I said and no charges were laid.
"He has to go back to the police station tomorrow where the police will investigate the matter and make some outcomes out of their investigation."
Mr Green said the Australia team would not be making further comment while the investigation is on-going.
He said he did not know if Booth was on his own or with other team members.
Asked if Booth had been drinking, Mr Green replied: "We understand there was alcohol involved. Again I don't know all the details. The investigation will present all that."
Surrey Police confirmed an arrest had been made in Egham. Booth is a student at the University of Melbourne and started rowing aged 16.
He made his senior international debut in 2010, whilst also competing in the U/23 World Championships in the men's eight and in March was named in the Australian rowing team.
Although he has competed in national and World Cup rowing events, this is his first Olympics.