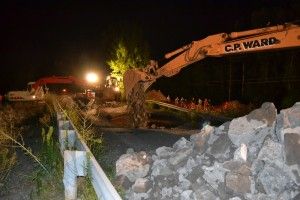 A massive sinkhole swept away a 30-foot-wide chunk of an Albion road and a path along the Erie Canal on Monday night, forcing crews to work late into the night to fill the opening.
The sinkhole nearly collapsed the embankment that held back the Erie Canal. Had the wall been washed out, officials feared the two state prisons next to the road would have been flooded.
The Canal Corporation activated the lock system, bringing down gates in Albion near Gaines Basin Road and in Holley, a 10-mile section. That is still a lot of water that may need to be drained to determine what caused the sinkhole, which was reported at about 9:30 p.m. Monday.
"Right now we want to stabilize the embankment and minimize property damage," said Richard Manns, an engineer with the Canal Corp. "Tomorrow we will start a full assessment of what happened."
Albion Eagle Harbor Road runs along the canal, linking Albion to Eagle Harbor. The Canal Corp., local municipalities and contractor C.P. Ward mobilized about a dozen pieces of heavy equipment, and worked to fill in the hole, which was about 16 feet deep. Workers were frustrated after midnight because they could see water was still seeping in.
"We'll just keep going until it's full," Jerry Gray, the Orleans County highway superintendent, said about replacing the washed away land.
Dump trucks hauled stone from Keeler Construction in Barre to fill in the road and canal path. Gray said it will all likely have to taken out at some point so the road can be properly repaired.
"We'll have to re-excavate and figure out what went wrong," he said.
A construction company has been working near the site in recent months, upgrading a culvert that runs underneath the canal. The state is improving several culverts along the canal in Albion.
Manns and the local officials said those projects may just be a coincidence and have nothing to do with the sinkhole.
Gray said he was grateful that about a 10-foot section of the canal path and embankment held after the road collapsed.
"It would have been an amazing amount of water," he said. "It would have flooded the prisons and gone all the way to Wal-Mart."