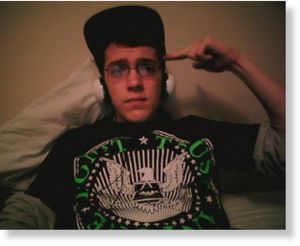 A 19-year-old Ohio student has been arrested by police after posting a Twitter message in which he said he planned to 'shoot up' Kent State University campus.
William Koberna, 19, was arrested at his parents' Brunswick home on Sunday on charges of inducing panic and aggravated menacing related to the tweet.
Koberna gave himself up without incident after Brunswick police arrived at his home and the sophomore student will be arraigned in court on Monday.
He is also facing a university hearing which could possibly result in his suspension or dismissal from Kent State.
One of his Koberna's friends, Ashley Mikulec confirmed that he was indeed arrested for his indiscreet tweet saying, 'Holy sh*t I can't believe bill got arrested for a tweet. If they saw half of his tweets and took them seriously he'd be in a mental asylum.'
She followed this up by saying, 'I would say this violates freedom of speech but at the same time he could have induced some panic.'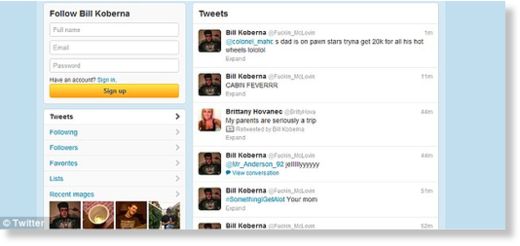 The university was adamant that the right action was taken.
'Any threat to our campus community is taken seriously and immediately investigated,' said Kent State University President Lester Lefton.
'Our students, employees, and all those who come to campus should know that their safety is our top priority.'
Kent State University became infamous in May 1970 after four students were shot dead on campus by National Guard troops protesting the U.S. invasion of Cambodia.
Nine other students were wounded in the tragic incident.
The arrest of Koberna comes 10 days after 24-year-old James Holmes shot and killed 12 people in an Aurora, Colorado cinema theater and wounded 58 others during a screening of the
Dark Knight Rises
.
It has also been reported the Colorado movie theater complex that was the scene of a gunman's massacre this month didn't have any uniformed security guards on duty the night of the shooting, even though other theaters operated by the same company did provide such protection for the busy premiere of the Batman film
The Dark Knight Rises
.
It's impossible to know whether guards - often off-duty police officers - at the Aurora Century 16 would have spotted the suspected gunman, James Holmes, and thwarted the attack that left 12 moviegoers dead and dozens wounded on July 20.
Officers hired as guards are generally armed and usually spend their time roaming the complex, checking bags or dealing with minor disputes.