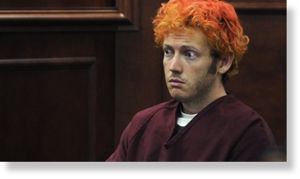 James Holmes showed no visible reaction Monday as he learned that he faced 142 criminal charges and the possibility of the death penalty for a deadly shooting rampage inside a Colorado movie theater.
Holmes, making his second court appearance, was formally charged with 24 counts of murder and 116 counts of attempted murder - two for each of the 12 people killed and 58 wounded. For each victim, Holmes was charged once for showing deliberation and once for showing extreme indifference to human life.
He was also charged with illegally possessing explosives, a nod to the hive of explosive booby traps that police found inside his apartment after he was arrested outside the movie theater, just moments after the July 20 shooting.
The court hearing focused mostly on procedural issues and offered a glimpse of how slowly the complex and voluminous legal case against Holmes will probably move in the months ahead.
It could be a year or more before a jury sits to decide whether Holmes is guilty of walking into a midnight screening of
The Dark Knight Rises
and opening fire on the sold-out crowd. When he was apprehended outside the Century 16 multiplex, he had three weapons, with one weapon left behind in the theater, and was wearing a black commando-style outfit, authorities said.
On Monday, Holmes sat at the defense table, flanked by two public defenders. His bright-orange-pink hair, an unruly frizz at his first hearing, had been combed flat to his head, and he spent much of the hearing gazing wide-eyed in front of him or staring toward the ceiling lights.
He said one word - "Yes" - in response to a question from Judge William Sylvester about setting a hearing date.
Holmes' lawyers have declined to make any public comment, and they have not indicated in court whether they will pursue an insanity defense.
Relatives of the victims and people who survived the shooting packed the seats of the courtroom. One girl was draped in an oversize Batman shirt, one hand in a cast. One man walked from court limping, gauze rolled around one ankle. Many had come to gaze for a first or a second time at Holmes, to try to glean some understanding from searching his face.
Sylvester set a hearing on Aug. 9 to discuss the extraordinary levels of secrecy that have kept much of the case file against Holmes - including a flurry of legal motions - under seal. A group of news organizations has asked that the file be opened to the public.
Gun control poll
A new national poll finds that public opinion on gun control remains unchanged since the July 20 massacre that killed a dozen people in Aurora, Colo.
The nation remains evenly divided, with 47 percent saying it's more important to control gun ownership and 46 percent putting a higher priority on guarding the right of Americans to own them. The numbers are from a new Pew Research Center opinion survey completed over the weekend and released Monday.
The latest findings differed little from an earlier Pew survey, in April, which found that 49 percent of U.S. adults place a higher priority on gun rights, while 45 percent want more weight given to gun control.
Source: The New York Times