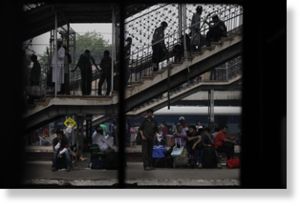 Northern India's power grid crashed Monday, halting hundreds of trains, forcing hospitals and airports to use backup generators and leaving 370 million people - more than the population of the United States and Canada combined - sweltering in the summer heat.
The blackout, one of the worst to hit India in a decade, highlighted the nation's inability to feed a growing hunger for energy as it strives to become a regional economic power.
The country's northern grid crashed about 2:30 a.m. because it could no longer keep up with the huge demand for power in the hot summer, officials in the state of Uttar Pradesh said. However, Power Minister Sushil Kumar Shinde said he was not sure exactly what caused the collapse and had formed a committee to investigate it.
The grid feeds the nation's breadbasket in Punjab, the war-wracked region of Kashmir, the burgeoning capital of New Delhi, the Dalai Lama's Himalayan headquarters in Dharmsala and the world's most populous state, the poverty stricken Uttar Pradesh.
By late morning, 60 percent of the power had been restored in the eight northern states affected by the outage and the rest was expected to be back on line by the afternoon, Shinde said. The grid was drawing power from the neighboring Eastern and Western grids as well as getting hydroelectric power from the neighboring mountain kingdom of Bhutan.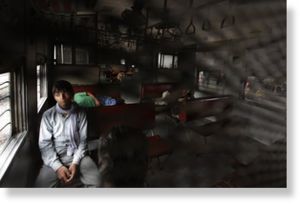 Without electricity, residents were roused from sleep when their fans and air conditioners stopped, and came out of their homes in New Delhi's sweltering heat as the entire city turned dark. Temperatures in the city were in the mid 30s (90s Fahrenheit) with 89 percent humidity. New Delhi's renowned Metro transit system, with 1.8 million daily riders, was forced to shut down for hours during the morning commute. Some trains across the northern region were stranded when their electric engines failed. Others were delayed by hours as they were hooked to diesel engines.
While the outage Monday was unique in its reach, its impact was softened by Indians' familiarity with almost daily power outages of varying duration. Hospitals and major businesses have generators that kick in when during power cuts, and upscale homes run on backup systems powered by truck batteries.
"This will obviously get worse," said Subhash Chawla, a 65-year-old retiree who took the Metro once power was restored. "Unless the Metro has a separate power supply, it will be chaos in the future."
The failure was the first time since 2001 that the northern grid had collapsed. But India's demand for electricity has soared since then as its economy has grown sharply. The outage was a reminder of the country's long road ahead in upgrading its infrastructure to meet its aspirations of being an economic superpower.
India's Central Electricity Authority reports power deficits of about 8 percent in recent months. But any connection to the grid remains a luxury for many. One-third of India's households do not even have electricity to power a light bulb, according to last year's census.
Transmission and distribution losses in some states are as much as 50 percent because of theft and connivance of employees in the power industry.
The power deficit was worsened by a weak monsoon that lowered hydroelectric generation and kept temperatures higher, further increasing electricity usage as people seek to cool off. Shivpal Singh Yadav, the power minister in the state of Uttar Pradesh, home to 200 million people, said that while demand during peak hours hits 11,000 megawatts, the state can only provide 9,000 megawatts.
Uttar Pradesh Power Corporation chief Avnish Awasthi blamed the grid collapse on states drawing more than their allotted power to meet the summer demand,
Earlier this month, angry crowds blocked traffic and clashed with police after blackouts in the Delhi suburb of Gurgaon that houses many high-rise apartment blocks and offices. With no power in some neighborhoods for more than 24 hours, people erected blockades that paralyzed traffic for several hours.