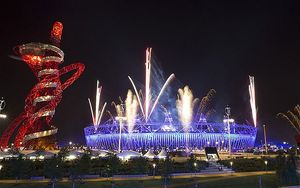 Halfway through the 2000 summer Olympics in Sydney, American target shooter Josh Lakatos and teammates had finished their events, and the US Olympic Committee and team officials had ordered them to hand in the keys to their three-story house and head back to the States.
But Lakatos didn't want to leave. He knew from his experience four years earlier in Atlanta, where he had won silver, that the Olympic Village was about to erupt into a raucous party.
So he asked the cleaner at the emptied-out dwelling if she would kindly look the other way as he tampered with the lock. "I don't care what you do," she replied.
Within hours, word of the nearly vacant property had spread. Home to more than 10,000 athletes at the summer Games and 2,700 at the winter, the Olympic Village is one of the world's most exclusive clubs. Popping up once every two years, it's a boisterous city within a city: packed with flats, mid-rises and houses as well as cafes, arcades, discos and TV lounges.
The only thing missing is privacy - nearly everyone is stuck with a roommate. So while Lakatos claimed a first-floor suite for himself, the remaining rooms were there for the taking. The first to claim space that night were some Team USA track and field athletes.
"The next morning," Lakatos says, "the entire women's 4x100 relay team of some Scandinavian-looking country walks out of the house, followed by boys from our side. And I'm just going: 'Holy crap, we'd watched these girls run the night before."'
And on it went for eight days as scores of Olympians, male and female, trickled into the shooters' house - and that's what everyone called it, Shooters' House - at all hours, stopping by an Oakley duffel bag overflowing with condoms procured from the village's helpful medical clinic. "I've never witnessed so much debauchery in my entire life," says Lakatos.
It was in 1992 that the image of a celibate Games began to flicker when it was reported that the Barcelona Games' organisers had ordered in prophylactics like pizza. Then, at the 2000 Sydney Games, 70,000 condoms weren't enough, prompting a second order of 20,000 and a new standing order of 100,000 condoms per Olympics.
It's clear that, summer or winter, the games continue long after the medal ceremony. "There's a lot of sex going on," says women's football goalkeeper Hope Solo, an American gold medallist in Beijing in 2008. "I'd say it's 70% to 75% of Olympians," agrees US world record holding swimmer Ryan Lochte, who will be in London for his third Games.
The games begin as soon as teams move in a week or so before the opening ceremonies. "It's like the first day of university," says US water-polo captain Tony Azevedo, a veteran of Beijing, Athens and Sydney who is returning to London. "You're nervous, excited. Everyone's meeting people and trying to get together with someone."
Which is perfectly understandable, if not to be expected. Olympians are young, supremely healthy people who have been training with the intensity of combat troops for years. Suddenly they are released into a cocoon where prying reporters and overprotective parents aren't allowed. Many are full of excess energy because they are maintaining a training diet of up to 9,000 calories per day while not actually training as hard. The village becomes "a pretty wild scene, the biggest melting pot you've been in," says Eric Shanteau, an American who swam in Beijing and will be heading to London.
The dining hall is among everyone's first stop. "When I walked in for the first time in Atlanta," says US women's football player Brandi Chastain, "there were loud cheers. So we look over and see two French handballers dressed only in socks, shoes, jockstraps, neckties and hats on top of a dining table, feeding one another lunch.We're like, 'What is this place?"'
Many liken it to a school cafeteria, "except everyone's beautiful," says US football player Julie Foudy, who has two golds and one silver from playing in three Olympics. "We'd graze over our food for hours, watching all the eye candy, wondering why I got married."
From one end of the village to the other, flags hang from windows and music blares from balconies. "Unlike at a bar, it's not awkward to strike up a conversation because you have something in common," Solo says.
American BMXer Jill Kintner, who won bronze in Beijing, thinks the Italians are particularly inviting: "They leave their doors open, so you look in and see dudes in thongs running circles around each other."
On the way to the training grounds, "the girls are in skimpy knickers and bras, the dudes in underwear, so you see what everybody is working with," says Breaux Greer, an American javelin thrower. "Even if their face is a seven, their body is a 20." "As far as best bodies," says US gymnast Alicia Sacramone, who won silver at the 2008 Beijing Olympics, "it's swimmers and water polo players, because that's an insane workout."
The challenge athletes face is what to do with their urges and when. "If you don't have discipline, the village can be a huge distraction," Solo admits. Some swear off sex until their events are done; others make it part of their pre-event routine.
American shot-putter and silver and bronze medallist John Godina says he had never seen anything like the dorm room in Sydney he shared with Greer, which became a revolving door of women without back stories. Each day, Greer was visited by three Olympian women, sometimes just hours apart. When his event did come around, Greer pulled off Athens' longest throw in preliminaries before a knee injury sidelined him. "I was a happy man going into competition," he says. "If you find somebody you like and who likes you, you compete well."
Some coaches try to limit late-night activities by enforcing 11pm noise curfews, banning alcohol consumption or, in the case of USA Swimming, forbidding cross-gender visitation in bedrooms. American Amanda Beard, with two golds, four silvers and one bronze medal to her name, was in a relationship with another swimmer during the 2000 Games but says: "People would walk around for miles to try to sneak somewhere."
Many athletes maintain that they're driven by a simple human need: intimacy. For most Olympians, the ramp-up to the Games is lonely. Not unlike movie stars on a far-flung movie shoot, Olympians are presented with the perfect opportunity to find a partner who understands where they're coming from. "Think about how hard it is to meet someone," Azevedo says. "Now take an Olympian who trains from 6am until 5pm every day. When are you supposed to meet someone?"
The Olympic Village becomes the site of an uneasy dance between athletes on a post-competition bender and those who have yet to compete. As Swiss swimmer Dominik Meichtry explains: "I'd get home from the clubs at 6am or 7am and I'd feel bad for the track and field guys. They're getting on a bus and we're intoxicated."
As the curtain falls on more events, the action accelerates. "Athletes are extremists," Solo says. "When they're training, it's laser focus. When they go out for a drink, it's 20 drinks. With a once-in-a-lifetime experience, you want to build memories, whether it's sexual, partying or on the field. I've seen people having sex right out in the open."
Once all the events have been completed, there's one party that can't be missed: the closing ceremony. "They basically throw us all in a stadium and say: 'Just go for it, party hard, get drunk and do some groping,"' says Australian footballer Alicia Ferguson. The tournament for the US women's football team runs the duration of the Games: "This is our chance to let loose," Chastain says. "We're leaving the next morning, and we're going to enjoy our last 24 hours."
After the Beijing Games, Solo recounts finishing the tournament with a group of celebrities: "Vince Vaughn partied with us, and Steve Byrne, the comedian. And at some point, we decided to take the party back to the Village, so we started talking to the security guards, showed off our gold medals, got their attention and snuck our group through without credentials - which is absolutely unheard of."
And, she adds, "I may have snuck a celebrity back to my room without anybody knowing, and snuck him back out. When we were done partying, we got out of our nice dresses, got back into our stadium coats and at 7am, with no sleep, went on the US show Today, drunk. We looked like hell."
And then it's over - for most Olympians, anyway. On a United Airlines flight from Sydney to Los Angeles in 2000, nearly 100 Olympians were among the passengers, causing the flight attendants to begin the flight with a warning: "Ladies and gentlemen, anybody who wishes to sleep, trade seats with someone in the front of the plane. Everybody else to the back with the Olympians."
Greer ended up in the bathroom with a famous Olympian and they "accidentally turned on the assistance light". But once Greer assured the flight attendant of their Olympic credentials, they were able to return to their business. "And we stayed in there a long time," he says.
It's tales like these that have London-bound Olympians dreaming of the possibilities. "My last Olympics, I had a girlfriend - big mistake," Lochte says. "Now I'm single, so London should be really good."
So is US runner LaShawn Merritt, the reigning Olympic gold medallist in the 400 metres. "An Olympics to remember has to have those stories," he says. "I was too locked in in Beijing. This time, when I'm done leaving my legacy on the track, I'll make sure London remembers me."
Source: Guardian News & Media