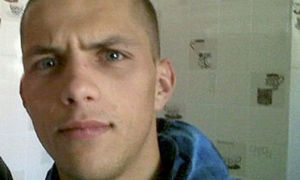 Anuj Bidve's killer, an angry man with a penchant for random acts of aggression, was accused of not taking his trial seriously
His declaration from the witness box in courtroom one at Manchester crown court that he "wasn't bothered" about spending 65 years in prison revealed for the first time the true extent of Kiaran Stapleton's contempt for his fate and his lack of remorse.
There had been a glimpse of it during his first appearance at Manchester magistrates court when the 21-year-old was asked his name. "Psycho, Psycho Stapleton," he replied.
Yet it was not until he had an opportunity to answer the prosecution's questions in court and during the cross-examination of his evidence that his lack of empathy and indifference to his fate was finally evident.
At an earlier plea and direction hearing on 1 June, Stapleton had denied murder but had pleaded guilty to manslaughter, citing diminished responsibility. The prosecution rejected this plea and the matter proceeded to a four-week murder trial at the crown court.
When he was asked during the trial by the prosecution barrister Brian Cummings QC if he hoped the psychiatric reports considering the issue of diminished responsibility would be in his favour, Stapleton replied: "To be honest, I'm not bothered. I love prison. I watch Coronation Street. I have got a fat canteen. I love prison. Lock me up for 65 years."
Glancing over to the jury from the witness box, he added, echoing a phrase from the comedian Catherine Tate's show: "Does this face look bothered? I have even got a new rug and bedding coming for my cell. I'm not bothered."
Yet he was not the big-time criminal he tried to claim he was. Stapleton had a job that paid £250 a week working night shifts in a factory producing flags and banners in Old Trafford and lived with his family in Ordsall following the breakdown of a relationship with the mother of his baby, who cannot be identified for legal reasons.
He is the fourth of nine children of Billie-Jean Stapleton, and apparently very different from his other siblings.
While some of his other associates may have been involved in
crime
in their own small way, Stapleton was a petty criminal with a penchant for road rage and random acts of aggression. He was not on the police radar as being of particular concern.
Tellingly, he had become an angry young man following the breakup of his relationship with his girlfriend and was incensed after being goaded about her alleged infidelity while "chilling" with friends in the hours leading up to the murder.
His victim, the 23-year-old Indian postgraduate student Anuj Bidve, had strayed into Stapleton's territory and was unlucky enough to bump into him. He was an easy target at the back of his group of friends and slightly built, just 163cm (5ft 4in) tall, no match for Stapleton, who towered above him, and attacked him from behind.
Far from being ashamed of what he had done, Stapleton showed up two days after the murder with a group of friends at a tattoo parlour in Swinton, Manchester, where he apparently behaved like a gangster and asked for a teardrop tattoo.
The tattoos are sometimes used by gang members and criminals to signify that they have killed someone. When the tattooist asked Stapleton why he wanted such a symbol, he claimed it was because "he had killed his goldfish". The tattoo artist clearly remembered his obnoxious and antisocial behaviour.
When he was asked about the goldfish claim he refused to answer the question, claiming: "I don't wish to discuss that. I might have animal cruelty sending letters to me at HMP Manchester." Cummings asked: "Are you being serious or are you making fun of the proceedings?" "No, no, I'm being serious," he maintained.
He had been captured on a CCTV camera looking out of the window of the Campanile hotel overlooking the crime scene the day after the murder. He claimed he was merely "seeing if there were any nice women walking past Regent Road ... seeing if there were any nice legs". Again he was accused of mocking proceedings.
A clinical psychologist called by the defence concluded that Stapleton scored highly on the sadistic and aggressive scale in tests. The traits he displayed during interviews were depressive, antisocial, impulsive and passive aggressive. He also said he had difficulties with anger and outbursts that stemmed from his childhood. And he also liked to present himself in a negative or pathological way and sought to intimidate and humiliate.
He scored highly in a test for the emotional traits of a psychopath and it was concluded that he had an antisocial personality disorder with psychopathic and sadistic features.
Prof Nigel Eastman interviewed Stapleton as he was held on the category A wing at HMP Manchester, formerly Strangeways. Something about Stapleton made him concerned. "I'm rarely made anxious by the defendants," he said. "But unusually for me, there was a point at which I became a bit concerned.
"I had three officers outside. I'm long in the tooth but there was just something going on I was a bit concerned about at one point." He said Stapleton "did not display an ability to think about emotions". He added: "To most people it would seem just very odd to go up to someone, a stranger and shoot them. I think what he's demonstrating is his very substantial lack of ability to feel what other people feel. I don't think he has any real feeling for what he's done."
The defence barrister Simon Csoka QC asked whether Stapleton could be faking, but the professor observed: "He's not the brightest button in the box."
For the final three years of his schooling Stapleton was mostly absent and when he did attend his behaviour was described as "disruptive" - letting off fireworks in school, setting off fire alarms and verbally abusing teachers until he was eventually permanently excluded at 14.
Stapleton did have a "grandiose" opinion of himself which was a "defence" against "being or being made to feel stupid", Eastman said.
The man who was with Stapleton on the night of the murder, Ryan Holden, said he could not go to police with an anonymous tipoff as "if I had done, I would have been dead in a week". There was "not a chance" of him being a "grass", as his family would also be in danger. The 20-year-old, who gave evidence behind a curtain said the gun was not his and he had not known his friend had a weapon on him. However, he admitted washing himself down with petrol to destroy evidence.
He said he had done this not because he had gunshot residue on him, but because his "head was gone" and he was "paranoid".
Eastman contrasted the cool reaction of Stapleton after the killing; taking a shower, disposing of evidence, with that of Holden, who was reduced to a gibbering wreck in the aftermath. Eastman said the reason why Stapleton reacted in such a way was because "he doesn't feel".
"Someone who doesn't seem normal is worrying because they are unpredictable."
In ill-tempered exchanges, Cummings told Stapleton that he wanted the jury to believe he simply "lost control" at times.
The barrister said Stapleton's "problem" was he was not brave enough to take people on, on equal terms.
He said: "This was perfect, absolutely perfect. You wanted to kill someone and nothing could be better than a group of foreigners on your patch. You shot that man and killed him. It worked like a treat and you ran off laughing?"
"That was not correct," Stapleton replied.
The prosecution suggested he was "quite happy" with word getting around the estate that he was responsible for the shooting, as long as the police did not have any evidence, a claim he denied.
In a phone call while on remand, played to the jury, Stapleton told his brother: "I just told me man I want that cardigan from the Trafford Centre - the one I murdered Anuj Bidve with. Get it me in double XL or extra large, what I had last time. Someone else has got one in here."
He urged his mother to buy a replacement as he was "walking round like a tramp".
In April, Stapleton threw a mop bucket of boiling water laced with sugar (so it would stick to skin causing further injuries) over the head of prisoner Michael Sharp, who was badly scalded. Stapleton described his victim as "the wing bully" on the high-security wing of HMP Manchester.
He then carried on the assault using billiard balls in a sock, assisted by two Salford friends armed with pool cues.