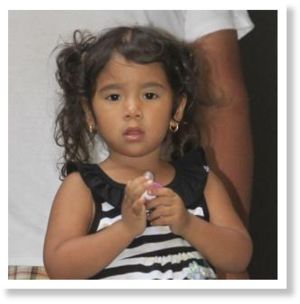 No toddler is safe in this city!
A heartless thug mugged a 2-year-old toddler in a Brooklyn elevator - saying nothing as he snatched the young girl's bracelet while her terrified, pregnant mom looked on,
The Post
has learned.
Michael Andrews, 30, was arrested yesterday morning for the sickening attack, which happened a half-mile away from where a thug ripped a $400 chain off a 3-year-old boy's neck as he sat in his stroller, sources said.
"He didn't care that I was pregnant and he was stealing from a little girl," said Adriani Espinal, whose daughter, Destiny Maizanche, was mugged six days before her third birthday.
"He grabbed my necklace and then he went for the baby," she told
The Post
last night. "I told him to leave the baby alone because she was crying."
Andrews was picked out of a photo lineup by Espinal, 25. He was being questioned by the police at the 79th Precinct station house in Bedford-Stuyvesant with charges pending.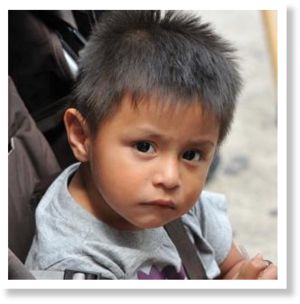 Law-enforcement sources said Andrews allegedly targeted Espinal and her daughter as they entered an elevator at about 7:20 a.m. on July 6 at the building on Flushing Avenue where the tot's grandmother lives.
The thief took the child's $300 bracelet off her tiny wrist as well as her mom's $300 necklace, according to the sources.
"He grabbed [the mom] hard and grabbed a necklace and an earring," said Romulo Cruz, Espinal's husband and Destiny's stepdad. "Then he looked down at the baby. When he went for the bracelet, Adriani attacked him and started hitting him with her keys."
The assailant got off on the second floor and made his escape.
Later that night, at about 7 p.m., the same thug allegedly pulled another mugging in the elevator of a building on Myrtle Avenue.
He allegedly brandished a gun, told the adult victim, "Don't say nothing" and stole her $200 chain and cellphone.
Cruz said the family is "very happy" Andrews is arrested, but the attack has made Destiny fearful of strangers.
"I noticed that around any strange men, Destiny starts crying," he said. But, he added, "She's getting better."
Police believe that Andrews is not the same person who robbed 3-year-old Harvey Hernandez in the lobby of his Bedford-Stuyvesant home on July 10. In that robbery, a fiend and an accomplice followed the boy, his brother and his mom and attacked them in the vestibule of their building on Malcolm X Boulevard.
One of the men ripped off the boy's chain - which had a medallion on it and had been given to him as a baptism gift by his godparents, the family said.
"How could he do this to a helpless little baby!" mom Riyana Guerrero wailed to
The Post
shortly after the attack.