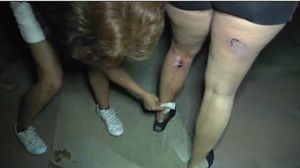 Anaheim Police officers reportedly fired pepper balls and bean bags at demonstrators and journalists Tuesday night during the latest round of protests against
last weekend's police shootings.
Freelance journalist
Tim Pool
posted
a video
of himself and another journalist,
Amber Lyon,
being fired upon, an incident he
first mentioned
while live-streaming the protests Tuesday night. Pool also said during his live-stream that he was fired at after identifying himself as a media member. Staff members at KFI-AM also reported
via Twitter
that they were fired upon.
A video
posted
by KPFK-FM reporter Amber Stephens shows protesters gathered outside Anaheim City Hall Tuesday afternoon, chanting "no justice, no peace" at the officers guarding the door. Riot police eventually emerged from the building. According to
KNBC-TV,
the crowd measured in the hundreds, with at least five people being arrested.
Tuesday's protests were the latest response to the fatal shooting of Manuel Diaz on Saturday. Diaz was killed while running away from police, which triggered a confrontation between residents that culminated in police firing similar riot-control weaponry
into a crowd of women and children
and a police dog, which Police Chief John Welter later said escaped from its vehicle, attacking a woman and her baby. Residents' outrage intensified after police
shot and killed another man,
identified by
The Los Angeles Times
as Joel Mathew Acevedo, after Acevedo allegedly fired at officers during a chase.
You can watch video from last night's protest, posted by the Associated Press on July 25, below: