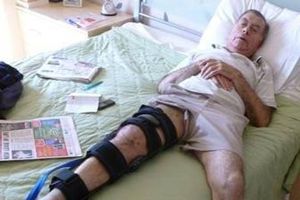 A series of pavement explosions has injured at least seven pedestrians in London in recent months, the
Standard
can reveal today.
One pensioner is now suing a power supply company after he was left seriously injured by an explosion under a manhole in a London street.
Details of his case have emerged just weeks after a woman pedestrian suffered 20 per cent burns in a similar freak explosion in Edgware Road.
Colin Wingate, 75, was left in a wheelchair for nearly three months after the blast blew out a manhole cover he was standing on while chatting to friends.
He contacted the
Standard
after reading in the paper of the ordeal of the pedestrians in Edgware Road.
In May a 55-year-old woman and two other women pedestrians were injured when the pavement they were walking on blew up in an explosion apparently caused by an electrical fault.
The incident is now being investigated by the Health and Safety Executive which revealed to the
Standard
they know of at least three more pavement explosions which injured pedestrians in London in the past 19 months.
They say there were other cases which did not result in injuries.
In June last year there was an explosion under a manhole cover in Kingsland Road, Dalston. No-one was hurt but a passing motorist said : "There was a flash and red flames."
Mr Wingate describes how was literally blown into the air by a blast in Harrow in August last year.
He is claiming negligence by UK Power Networks, a Hong Kong owned company that owns and maintains the electrical cabling supplying London's power.
The company is also at the centre of an HSE inquiry into the Edgware Road blast.
Mr Wingate, who used to run a newsagents off Oxford Street, said there was a huge bang. One person dialled 999 and said a bomb had exploded.
He said : "I did not lose consciousness and I was aware of the noise and the pain. The force literally lifted me off the ground.
"The manhole edge cut my leg severing the tendons. It was a deep gash, if it had been any deeper my leg would be in a different room."
He added: "I imagine this was the sort of blast you get from an improvised explosive device in Afghanistan but not in Harrow."
Mr Wingate still attends hospital twice a week for physiotherapy sessions and says he only ever recover 80 per cent use of his leg.
Initially, UK Power Networks offered him a bottle of wine or a food hamper.
He adds: "At first I thought it was just one of those things, a one in a ten million chance of happening but the more I find out the more I realise it happens fairly regularly."
His solicitor Peter Kirk said UK Power Networks was denying all liability. "They are saying there was a build up of gases which was beyond their control. This defies logic, if that was the case it would be happening all over the place.
"It is not good enough to just say 'oh well, these cases happen.' This may be their usual defence and people go away. These gases do not just explode on their own, there must be a fault in their system. "
UK Power Networks said it was not appropriate to comment as the matter was being dealt with by lawyers.
But a spokesman said : "We would like to reiterate that events such as the one unfortunately encountered by Mr Wingate are unusual.
"The safety of our staff and customers is our main priority. We undertake a robust programme of regular checks and maintenance on our overhead lines and underground cables plus associated equipment. "
A HSE spokesperson commented: "The Health and Safety Executive is aware of a number of other incidents in the London area in recent years involving exploding utility equipment, including pit covers and electrical boxes. The majority of these incidents did not result in injury, and were attributed to electrical faults and/or gas leaks. They were investigated with UK Power Networks.
"Our prime focus at this time is an ongoing investigation into the latest incident on Edgware Road. We cannot comment or speculate on what caused this particular explosion."