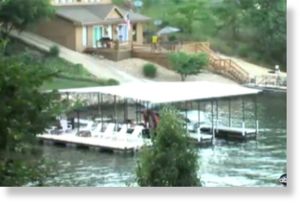 Tragedy struck on the 4th of July as three children were electrocuted swimming in lakes in Missouri and Tennessee, and another three drowned in Iowa.
Two siblings were killed around noon on Wednesday while they were swimming near a private dock in the Lake of the Ozarks in Missouri. Alexa Anderson, 13, and Brayden Anderson, 8, of Ashland, were hit with an electric shock while they were in the water, according to the Missourian.
Adults who heard their screams jumped in and pulled them out of the lake to perform CPR, but both children were pronounced dead after being transported to a nearby hospital.
Sgt. Paul Reinsch of the Missouri State Highway Patrol said it's not clear where the electricity came from.
"Obviously, the lights, lots of times, they have slides and they have pumps that pump water onto those slides so the children can use them," Reinsch told ABC News. "There's a lot of reasons electricity is on that dock."
Grangier County Sheriff Scott Layel said the boys may have been trying to climb into a houseboat when they were electrocuted.
"We believe that somehow or another, the electricity at this point got into the metal of the boat, and when the children touched the metal ladder to get in, that's when the electrocution occurred," Layel told ABC News.
About two hours later, a 10-year-old boy in Tennessee died in a similar accident at Cherokee Lake, near Knoxville.
ABC News At Cherokee Lake, outside Knoxville, Tenn., a 10-year-old was killed and another boy was seriously injured in an eerily similar incident."Someone started hollering the kids are getting electrocuted," witness Betty Hamilton said.
Two boys were swimming between two houseboats and a dock when they were struck by an electrical current, according to The Associated Press. One, identified by the Knoxville News Sentinel as Noah Winstead, died at the scene and the other, 11, was revived and is currently on life support at a local hospital.
AP reports that a faulty cord from a houseboat might have caused the electrocutions.
Seven other people were reportedly injured by the electricity at Cherokee Lake and taken to the hospital.
Meanwhile, three young children drowned in Iowa.
Two girls, ages 7 and 9, and a 7-year-old boy, all related, were found dead Wednesday night in the Iowa River, after they wandered from family members while they were swimming and drowned, according to AP.
Marshalltown Police Chief Mike Tupper told the Des Moines Register that people shouldn't swim in the Iowa River. The drownings reportedly happened in a part of the river where boating and fishing are popular.
"The message that we are trying to get out to people is that the river is not a safe place to be, it's not a safe place to swim," Tupper said. "The river looks relatively calm down on the location where this occurred, and in many areas down there, it's very shallow. But there are also areas that can drop off to 12 or 14 feet, and the undercurrent can be very dangerous in any river."
In New York, three children, ages 8, 11 and 12, died when a yacht capsized off Oyster Bay in Long Island on Wednesday night.