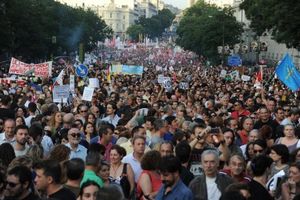 Spanish police fired rubber bullets and charged protestors in central Madrid early Friday at the end of a huge demonstration against economic crisis measures.
Thick smoke hung in the air from plastic bins set alight by protestors chased by police, who hit them with batons when some tried to reach the heavily-guarded parliament at the end of a mostly peaceful march.
AFP reporters at the scene said dozens of protestors lingered, some throwing bottles at police, near the Puerta del Sol, the big square at the heart of the city where a march of hundreds of thousands wound up late Thursday.
A police official told AFP that officers arrested seven people and six people were injured.
Earlier, workers protesting against crisis pay cuts and tax hikes filled the streets of several Spanish cities, yelling and whistling in anger as they branded the government's latest crisis measures "robbery".
"Hands up, this is a robbery!" protesters bellowed in Madrid, one of more than 80 demonstrations called by unions across the country.
They were the latest and biggest in an almost daily series of protests that erupted last week when Prime Minister Mariano Rajoy announced measures to save 65 billion euros ($80 billion) and slash the public deficit.
Among the steps is a cut to the Christmas bonus paid to civil servants, equivalent to a seven-percent reduction in annual pay. This came on top of a pay cut in 2010, which was followed by a salary freeze.
"There's nothing we can do but take to the street. We have lost between 10 and 15 percent of our pay in the past four years," said Sara Alvera, 51, a worker in the justice sector, demonstrating in Madrid.
"These measures won't help end the crisis."
Spain is struggling with its second recession in four years and an unemployment rate of more than 24 percent.
Under pressure from the European Union to stabilise Spain's public finances, the conservative government also cut unemployment benefits and increased sales tax, with the upper limit rising from 18 to 21 percent.
As Rajoy's conservative Popular Party passed the measures with its majority in parliament Thursday, Budget Minister Cristobal Montoro defended them, insisting they were needed to lower Spain's borrowing costs.
"There is no money in the coffers to pay for public services. We are making reforms that will allow us to better finance ourselves," he said.
Protestors angrily rejected this claim.
"There isn't a shortage of money -- there are too many thieves," read one sign hoisted in the Madrid crowd.
Critics say the government's new austerity measures will worsen economic conditions for ordinary people.
Cristina Blesa, a 55-year-old teacher, said she and her husband would struggle to pay their son's university tuition fees because of the cuts and tax hikes.
"We're earning less and less and at the same time the price of everything is going up," she said at the Madrid protest.
"Now with the rise in VAT everything is going to be even more expensive. It's more and more difficult at the end of the month."
Spain is due this month to become the fourth eurozone country, after Greece, Ireland and Portugal, to get bailout funds in the current crisis, when it receives the first loan from a 100-billion-euro credit line for its banks.
Eurozone leaders were expected to finalise the deal in a telephone conference on Friday.
Spain had to offer investors sharply higher interest rates in a bond sale on Thursday, suggesting investors remained worried over the country's ability to repay its debts.
Protestors complained that they were being made to pay for the financial crisis while banks and the rich were let off.
"We have to all come out into the street, firefighters, street-sweepers, nurses, to say: enough," said Manuel Amaro, a 38-year-old fireman in Madrid holding his black helmet by his side.
"If we don't, I don't know where this is going to end."