A 7-year-old Brooklyn girl is miraculously alive and well today after plummeting three stories - thanks to a heroic neighbor who raced into action and broke her fall.
Cops said little Keyla McCree pushed out one of the accordion pieces that was holding a brand- new air conditioner in a bedroom window of her Coney Island apartment and squeezed through the tiny opening before she fell off.
"She's fine," said the autistic girl's mom, Shaleema McCree.
"Not a scratch on her. The man caught her, thank God.
"It's a miracle."
Dramatic cellphone video of Steven St. Bernard's dramatic rescue shows a shoe-string catch that would make the Giants' Victor Cruz proud.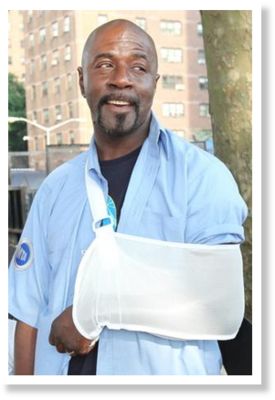 The 54-second video shows Keyla perched on top of the unit above a courtyard and a crowd of anxious onlookers, including St. Bernard, a city bus driver, who stands underneath.
Keyla shifts her weight back and fourth, and in one tense moment even swings her right leg out, balancing herself with her other leg on the air conditioner.
Then she waves her arms briefly, grabs her skirt with both hands and takes off like a practiced stuntman.
As the crowd screams, St. Bernard positions himself perfectly and snatches her out of the air just before she would have hit the ground.
"This was the biggest catch of my life," St. Bernard said later.
"She just looked shocked."
St. Bernard, who lives in the same apartment complex, was on his way home from work and was parking his car when several children ran over to him begging him for help.
The bus driver, still in his blue MTA uniform, rushed over in the nick of time.
"There were all these kids yelling, 'The little girl! The little girl!' " said St. Bernard.
"I saw a little girl standing on the air conditioner," he said. "I said to myself, 'Let me get over to her in time.'
"I made it just in time."
St. Bernard said the girl was "dancing and smiling" on the small unit, seemingly oblivious to her danger.
He told her not to look down, and before he knew it, she was in free fall, tumbling right into his arms.
St. Bernard, 52, suffered a torn tendon in his biceps, a small price for saving a life, he said.
He was released after being treated for his injury at Coney Island Hospital, where the girl was also taken.
St. Bernard, who has been working for the MTA for 10 years, has four kids of his own - and one of them is a 7-year-old girl, just like Keyla.
When he eventually returned home, St. Bernard recalled, "I was cool at the time, but my heart was racing.
"What would have happened if I didn't catch her?''
McCree - who described her daughter's savior as "an angel'' - had stepped out of the room with Keyla's younger brother when the girl pushed her way out shortly after 2 p.m.
McCree had just bought the air conditioner the day before to help battle the heat wave.
A city Housing Authority spokeswoman said all new window air conditioners are supposed to be inspected for proper installation.
It was unclear if housing officials had looked at McCree's unit yet.