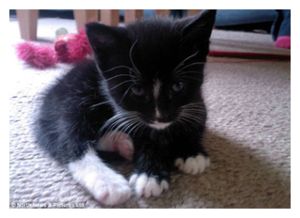 A cat called Charley could scoop a national award after saving the life of her diabetic owner.
The three-year-old black and white moggy sprang into action when Susan March-Armstrong had a potentially fatal hypoglycaemic attack in the middle of the night.
Susan, 47, had collapsed unconscious on the bathroom floor of the family home in Haltwhistle, Northumberland, as her husband Kevin, 49, slept on the room next door.
Sensing something was wrong, Charley pounced on the bed and continuously licked Kevin's face and pawed at his hand until he woke up, then led him to the bathroom.
Kevin was able to give his wife a life-saving glucose injection.
The little cat has now been nominated for the Cat Protection League's Hero Cat award and her owner Susan will attend the ceremony at London's Savoy hotel on her behalf in August.
Mrs March-Armstrong, who suffers from emphysema as well as diabetes, said: 'She is absolutely amazing. You hear of dogs who do things like this, but not cats.'
The mother-of-one added: 'I have no recollection of what happened after I went to the bathroom, but when I came round Charley and Kevin were both next to me and she was purring away.
'Kevin explained she had woken him up and raised the alarm and had not left my side since.
'Without Charley I could have died, or at the very least ended up in hospital.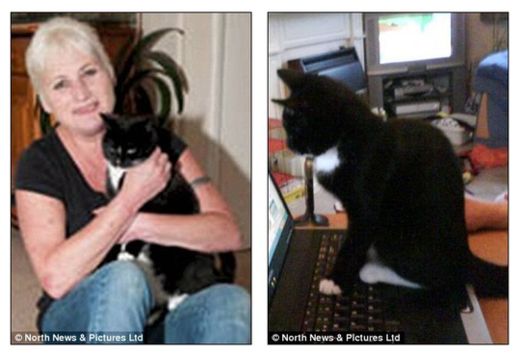 'She is a very sweet-natured and caring cat, so it does not surprise me that she would be concerned about me.
'Ever since I got her as a tiny kitten she's had an affinity with me.
'She came from a litter of kittens a friend had, but the person who took her sent her back, saying she wouldn't feed and they didn't know what to do. She was so small she didn't know how to feed herself.
'I took her and, I suppose, I saved her life by hand feeding her until she knew what to do on her own, so maybe she's paying me back now?
'Either way, I'm so proud of her, she is my little hero.'
The National Cat Awards will be hosted by Channel 4 presenter Rick Edwards and attended by celebrity judges including comedian Ed Byrne, star of
Grumpy Old Men
Rick Wakeman, model Lucy Pinder and former BBC newsreader Jan Leeming.
Lucy Pinder, who will be judging the Hero Cat category, said: 'I am very impressed by the heroic things the cats in my category have done to help their owners, and I would give them all first prize if I could.
'It just goes to show how cats have the capacity to amaze us all.'