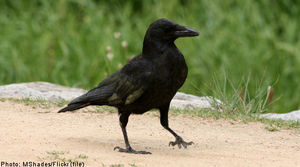 A golf club in southern Sweden is planning to hunt the crows on their course after a violent spate of attacks and thieveries have left golfers in fear.
Golfers at the Rya Golf Club in Rydebäck, southern Sweden, have been subjected to a swarm of attacks from angry birds which are both hungry and breeding.
"This year, they actually attacked our guests for the first time," the club's receptionist, Annika Hermansson, told
The Local
.
"The crows have always come down looking for people's food, but they are getting vicious this year."
Hermansson claims that around 10 people have complained of attacks, one of whom compared his ordeal to a horror film.
"I was just about to swing when two big crows started attacking and biting me. They flew at my head from two different angles and when I hit back they started attacking one another," Gry Nilsson told the local Helsingblad Dagbladet newspaper.
"It was nasty; I was completely alone and thought that even more would come. It was as if we were in Hitchcock's
The Birds
."
However, the birds are not only attacking avid golfers - they're also commiting a new and irritating feathered felony.
"They're taking people's lunch - but it doesn't stop at that! Some people have lost their keys, glasses - even their telephones," Hermansson told The Local.
"We've had to warn guests to keep their bags tightly closed at all times and we're even considering introducing hats for the players with big eyes on them to frighten off the crows."
However, if simply scaring the birds away doesn't work, the club is prepared to look into more drastic measures, as it has in previous years.
"We're planning to have the birds professionally hunted. Such measures can be taken when animals are causing trouble like this, especially when they are hurting people," Hermansson told
The Local
.