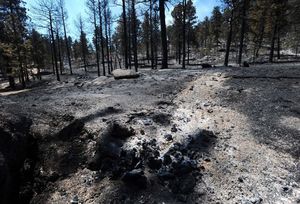 Bellvue, Colorado - More people evacuated by the most destructive fire in Colorado history are set to return home today.
It's the second wave of evacuees allowed back in two days as firefighters ramp up their attack on the wildfire that's burned over 100 square miles and destroyed at least 189 homes.
Fire managers say the blaze is 55 percent contained.
Meanwhile, firefighters are making progress against another blaze in central Colorado,
which may have been caused by a meteor.
The 2-square-mile wildfire near Lake George is 39 percent contained.
The county sheriff says his office received multiple reports, including one from a person who thought a meteorite might have landed in a wooded area north of Buena Vista. He says officials could not confirm that report.
The National Weather Service says the Colorado sightings correspond with a report of a possible meteor filed by the crews of two commercial aircraft over Kansas and another over New Mexico, near the Colorado State line.
Source: Associated Press