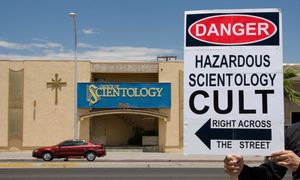 When reading the stories of child sexual abuse and how Scientology management tried to cover them up, then remember there's a Scientology policy stating that scientologists who are "upstat" - those doing very well, and/or making a lot of money for Scientology - should never be punished, while those who are "downstat" should be investigated. Gabriel Scott Williams reportedly was such an "upstat" person who was making lots of money for Scientology and so victim Jennifer was to be stopped filing a complaint about the gruesome sexual and psychological abuse of Gabe Wiliams.
Source: HCOPL 1 September 1965, "Ethics Protection":
In short a staff member can get away with murder so long as his statistic is up and can't sneeze without a chop if it's down. ... When people do start reporting a staff member with a high statistic, what you investigate is the person who turned in the report.
Child rapist Gabriel Williams
Scientology Sex Assault Nightmare
New York Post
, 2 October 2005
A former Scientology staffer is breaking her silence about being sexually assaulted 100 times at ages 16 and 17 by the church supervisor [Gabriel Williams] she was "ordered" to live with, and then receiving threats and intimidating phone calls when she reported the abuse... In a related civil suit brought by Stewart against Williams and the church, she recently received as part of the settlement a "generous monetary resolution," said her attorney. Although the church admitted no wrongdoing, it forked over about $700,000, sources say.
Gabriel Scott Williams' California Registered Sex Offender Profile Display. Other files which were placed on this page temporally and the police files about the harassment the Gorman family received plus copies of the complaint against scientologist rapist Gabriel Williams, who was convicted of sexual battery and sodomy, are now collected on a
dedicated page
.
Donald Anthony Strawn
State of Florida v. Donald Anthony Strawn
A Scientologist by the name of Donald Anthony Strawn, also known as Tony Strawn, was convicted in 1995 to thirty years in prison for sexually molesting two girls, ages 11 and 13. The children were in his custodial care at the time. Scientology directed (under threat of expulsion) that the mother not report the incident to the proper authorities, because the church could "handle" his "aberration".
Tony Strawn is currently
incarcerated
by the Department of Corrections, FL
Letter of
Yolanda Howell
to Dennis Erlich (auf
Deutsch
)
One little baby I knew in the Sea Org got herpes during a Cadet Org epidemic. A 14 year old girl disclosed to me how she and a few other little girls were leaving the Cadet Org in the daytime and performing sexual services for one of the girl's uncles in exchange for money. A man who worked in the Cadet Org admitted he was sexually molesting the children. Although these incidents were written up, as far as I know they were never "handled."
Sea Org = Scientology members who signed a billion year contract
Cadet Org = program for children so their Sea Org parents can get on with their business within the organization
Low Priority for Child Welfare
By Adeline Dodd-Bova
These were the children of dedicated Scientologists. Students' files revealed previous teachers' statements of incidents of physical and sexual abuse. All of these cases were reported to the principal. The reports were "handled" by Scientology alone. Teachers dared not report these crimes on their own outside the school for fear of losing their jobs.
The Mace Kingsley Ranch by
Astra Woodcraft
I was 13 years old. I think I was 13. Everyone had beer and got drunk. I think the first night or the second night I was up there, I was sitting next to him and I had had a few beers and so had he. And so had everyone else. And he put his hand down my shirt and down my bra and started feeling me. And I...it really scared me and I asked my friend later, I said, "What's Wally [Hanks] doing? Why did he do this?" And she said, "Oh. Don't worry. He just does that with the girls. That's just what he does but don't worry about it."
Ex-scientologists Jane Scott
writes to John Ashcroft
What we did not know about when we took our son to Mace-Kingsley was that Wally Hanks was a pedophile who was engaged in illegal relations with at least one, or perhaps several, of the girls in his charge. One weekend when his younger brother and I went up see Jesse the Ranch it was in obvious turmoil and there appeared to be several new adults around. Jesse swore us to secrecy and then explained that one of the girls and her boyfriend had run away because she "freaked-out" about Wally's sexually molesting her and her not wanting it to go on anymore.
Former Mace-Kingsley staffer Wally Hanks after his Mace-Kingsley time, started his own school for troubled Scientologist kids, the Hanks Ranch. In April 2004 a former student told of the time there in Little Ranch of Horrors II
Wally beat the shit out of me once for running his horse too hard. We had another whacked out vietnam vet who was clearly psychotic stay there for a few months, living in a tent out in the back of the property. On a camping/hunting trip to the Indian mines he completely lost his mind, took all his clothes off, grabbed a couple guns and took off into the desert. We found him a couple days later.

Kids torturing animals. Older kids making younger kids perform homosexual acts, on them. I'm sure there is tons more, but I'd have to sit and think about it.
Apparently the MK-Ranch was closed. I don't know why but the following explanation was given by the state website:

State of New Mexico - Department of Education

June 10, 2002

Nonpublic Schools Commission to Meet on June 14

(Santa Fe, NM-The Nonpublic Schools Commission will meet on Friday, June 14, 2002, at 9:00 a.m. at the College of Santa Fe in Albuquerque, 2201 San Pedro, NE, Building 2. The commission will hear accreditation summaries from New Mexico State Board of Education (SBE)-approved agencies that accredit nonpublic schools.

In addition to accreditation summaries, the commission will discuss the Ranch School, which was formerly the Mace-Kingsley Ranch School.

For more information, please contact the SDE's Alternative Education Unit at (505) 827-6909.

The Mace-Kingsley Ranch was renamed Hacienda Del Espirito, Inc. aka New Mexico Ranch. and is currently, April 2004, for sale. Note that in Clearwater, Florida, a Mace-Kingsley Family Center exists with Jeff Avrin as ED, Ed Cramb as auditor and Carol Kingsley as President.
Life aboard Scientology's ship 'The Apollo' in 1968
Posting of Steve Manning 8 Mar 2000
Working twelve hour days for little or no money. Sleeping in over crowded dormitories with strange adults led to sexual abuse. And all this in the good name of Scientology. If any of you sick fucks who are in the business today can explain why this happened to me, especially while "God" himself was on board, I'll be happy to know.
It is interesting to note that Scientology asked for exemption of a sexual exploitation legislation in Texas, that would forbid counselors to have sex with their patients. Perhaps Scientology feared past and present sexual abuse victims would sue them.
American Family Foundation -
The Cult Observer Vol. 11 No. 4 1994
Scientologists and Psychiatrists

The Church of Scientology, an implacable foe of psychiatry, took an unexpected stance toward recently passed legislation in Texas prohibiting psychotherapists from engaging in sex with current or former patients. According to John Bush, executive director of the Texas Society of Psychiatric Physicians, the Church of Scientology asked for a waiver because the bill would also apply to clergy who do psychological counseling. (From "Scientology Receives Tax Exemption," Psychiatric Times, 12/93, 11)
Scamizdette: Evidence of disturbing neglect of Scientology children?
Chris Owen citing internal Scientology documents --
June 1997
"When I was a nanny for the first ten months of being in the SO [Sea Org]. I would ofter [sic] pick up the kids and give them a hug or sit them on my lap. Sometimes when I would do this I would get an erection. This was like a 2-D restim. I guess and sort of surprised and embarassed [sic] me...."