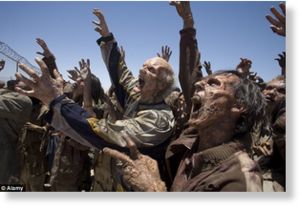 Derelict areas of Detroit face being taken over by hordes of 'flesh and brain-eating zombies' if an ambitious business plan takes off.
Entrepreneur Mark Siwak wants to create live-action terror theme park 'Z World' on Motor City's run-down and abandoned streets.
Customers would pay to be chased by professional actors and try to seek shelter in ghostly homes, factories and businesses.
Siwak said it would breathe fresh life into the rundown city, giving jobs to hundreds, if not thousands, of people.
But critics say it is an 'exploitative and insensitive ploy' to profit from Detroit's problems.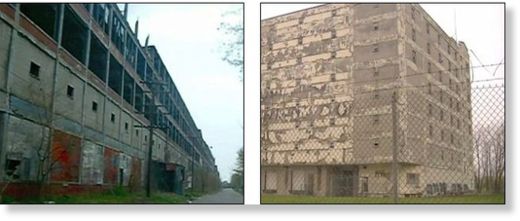 Curbed Detroit blogger Sarah Cox said the plan 'sounds a lot like all that fun we had during the 1960s race riots'.
She added: 'It's nice to know Z Land is finally going to capitalise on our love of adrenaline rushes and nostalgia. Now even visitors from the 'burbs can 'wonder if they will make it through the night.'
Detroit has become known in recent years for pioneering 'creative solutions' like urban farming and pedestrian-friendly greenway trials.
Soaring budget deficits and a declining population has forced businesses and the authorities to 'think outside the box'.
And Siwak, who has raised $2,200 of the $140,000 needed through fundraising website IndieGoGo, said his theme park could be the perfect solution.
He told CBS Detroit: 'The city can only have so many urban farms or similar uses for vacant plots.'
And he revealed he is already receiving CVs from hundreds of residents keen to work at the tourist attraction.
He added: 'While zombies are great, the real neat thing about this project is the potential to inject some life into a forgotten neighbourhood - with the opportunity to work with neighbourhood groups and organisation'.
The project would follow in the footsteps of Atlanta Zombie Apocalypse, where thrill-seekers wield paint ball guns to play hide-and-seek with undead zombies in a formerly abandoned truck stop.