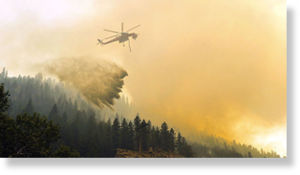 Firefighters in Colorado have battled the odds in trying to contain a blaze that has burned uncontrolled across 100 square miles of forest -- encountering precarious winds, heat and fatigue.
On Wednesday, they contended with a new force: meteors.
Authorities grounded firefighting aircraft as a precautionary measure after several reported meteor sightings near the High Park fire area they were trying to contain.
Chaffee County Sheriff W. Peter Palmer told the
Los Angeles Times
that his office received four reports of meteors striking the ground.
"People heard a boom; they saw things flying through the air, things like that,"
he said. "The local fire chief went looking for smoke to see if the impacts started another fire. That's the last thing we need."
Steve Segin, a spokesman for the U.S. Forest Service, told the Associated Press that the crew of a heavy air tanker spotted something while making a slurry run on the blaze. "They weren't sure what it was," he said.
"They landed as they normally do to reload, and for safety reasons they grounded themselves until they could figure out what it was they saw."
The Colorado sightings corresponded with reports of a possible meteor filed by the crews of two commercial aircraft over Liberal, Kan., meteorologist Scott Entrekin of the National Weather Service in Boulder, told the AP. Other sky sightings were reported in Raton, N.M., he said.
Fire officials ordered four single-engine aircraft to stay on the ground as a precaution. Two heavy air tankers were also affected. The planes soon resumed their attack on the fire, Entrekin said.
The groundings came as firefighters were taking advantage of a break in the heat to ramp up their attack against the High Park fire burning on more than 100 square miles in the northern part of the state.
In Chaffee County, Palmer said he doesn't doubt that residents saw something, but he's not sure what.
"I don't know. I've been feeling kind of weak," he mused. "Maybe it was kryptonite."