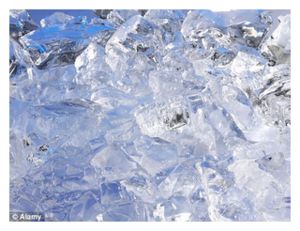 It is the baffling question which has perplexed the world's greatest scientific minds and even eluded great thinkers like Aristotle.
But now scientists have become so infuriated about the mystery of why hot water freezes faster than cold, that they have put up a cash reward to find the answer.
The Royal Society of Chemistry has offered £1,000 for a member of the public to come up with a convincing explanation for the phenomenon, which has mystified humankind.
The scientific problem, which has become known as the Mpemba effect, has also defeated Francis Bacon and René Descartes.
The problem got its modern name in 1968, when Tanzanian student Erasto Mpemba posed the question to professors visiting his school.
Mr Mpemba, who had been studying the problem for five years, had asked Professor Denis Osborne, of Dar es Salaam University: 'If you take two similar containers with equal volumes of water, one at 35C and the other at 100C, and put them in a refrigerator, the one that started at 100C freezes first. Why?'
The professor was unable to answer and published a paper on the problem the following year, calling it the 'Mpemba Effect'.
Brian Emsley, media relations manager at the Royal Society of Chemistry, wrote in the
Guardian
that the winner of the £1,000 prize will need to 'make a convincing case and employ some creative thinking'.
Many standard physical effects are said to contribute to the phenomenon, although no single one has been conclusively proved as the cause.
Theories put forward based on evaporation, convection and supercooling have all been put forward, but as yet the question still remains unanswered.
Members of the public have until July 30 to submit their entries.
They will be pitted against worldwide postgraduate scientists, who, sponsored by the Royal Society of Chemistry, will be tackling the same problem.