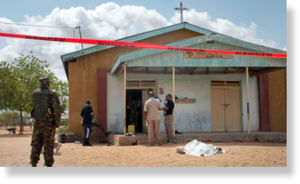 Nairobi, Kenya - Masked gunmen hurled grenades into two churches in eastern Kenya on Sunday and then sprayed gunfire at fleeing worshipers, killing at least 15 people in one of the worst terrorist attacks Kenya has suffered in years.
When
Kenyan forces stormed into Somalia
eight months ago, Somalia's fiercest militant Islamist group, the Shabab, vowed to wreak vengeance, saying it would topple Nairobi's skyscrapers and kill Kenyan civilians.
The skyscrapers are still standing, but militants believed to be connected to the Shabab have carried out more than a dozen attacks in Kenya, scaring off tourists and putting a serious dent in this country's economy and sense of security.
At 10:30 a.m. Sunday, four gunmen attacked the African Inland Church in Garissa, an outpost town in the arid flatlands near the border with Somalia. Kenyan police officials said the gunmen had hurled two grenades into the church and shot and killed two police officers who had been posted at the church's door because of several recent attacks in Garissa.
The gunmen then fired the police officers' high-powered assault rifles at worshipers pouring out of the church in a desperate stampede. Witnesses said at least 15 people had been killed and as many as 50 wounded. The local media showed scenes of bloody bodies sprawled under the church's pews.
About the same time, two other assailants hurled grenades into a Roman Catholic church in Garissa, wounding three people.
"The goons were clad in balaclavas," the regional deputy police chief, Philip Ndolo, told Reuters.
The assailants appeared to have escaped.
For some time now, American officials have been deeply concerned about a major terrorist attack in Kenya.
Last month, the American Embassy sent out a warning to American citizens about an imminent strike in the port city of Mombasa. A day later, a grenade attack at a Mombasa bar killed three people and wounded several others.
At any given moment, thousands of Americans are in Kenya - aid workers, diplomats, missionaries, students and safari tourists.
The Obama administration condemned the attacks, saying in a statement on Sunday that those responsible "must be brought to justice for these heinous acts."
"At a time of transition, peace and stability are essential to Kenya's progress," the statement said. "We support those who recognize Kenya's ethnic and religious diversity as one of the country's greatest strengths."
Kenyan security forces are widely considered weak and corrupt, and the country has had a history of attacks, including the
truck bombing of the American Embassy
in downtown Nairobi in 1998; that well-planned operation, carried out by Al Qaeda, killed more than 200 people, most of them Kenyans. So far, though, recent episodes have been relatively small-scale attacks, like a grenade rolled into a nightclub or bus station, causing few casualties. Sunday's simultaneous attacks on two churches seemed to mark a shift in tactics and ambition.
There have also been several kidnappings in the past year, and on Friday, gunmen seized four foreign aid workers at a refugee camp near Garissa after killing a Kenyan driver. The gunmen, thought to be Somali militants, escaped with the hostages into the Somali desert.
In October, Kenyan authorities said they were sending troops into Somalia, which has struggled with various degrees of chaos for more than 20 years, to push the Shabab away from their border and improve Kenya's security. But many analysts - and Kenyans - say they believe that since then, Kenya has become much less safe.