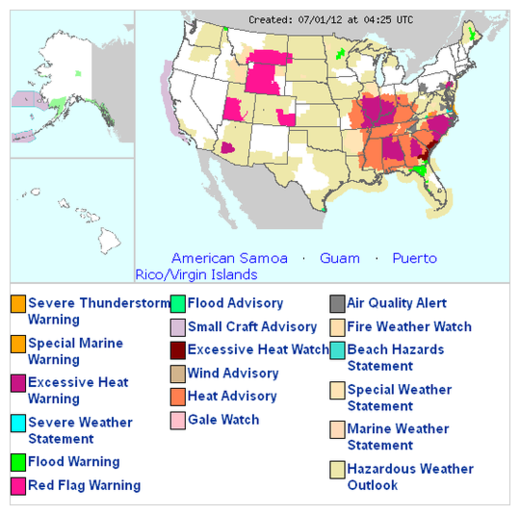 District of Columbia, Maryland, Ohio and the two Virginias declare States of Emergency amid rising storms toll.
Deadly storms across Eastern U.S. have claimed at least 13 lives and left many injured, hundreds homeless and about 5.5 million utility customers, or an estimated 17 million people, without power amid sweltering heat wave.
Widespread damage and power losses have been reported across a vast region ravaged by deadly storms since Friday.
The storms have left a trail of destruction from Indiana to New Jersey, with the worst-hit areas being in Washington Metropolitan area, Maryland, West Virginia, and suburban Virginia.
Virginia Gov. Bob McDonnell called the widespread power losses as "the largest non-hurricane power outage in Virginia history," as more storms threatened. "This is a very dangerous situation," the governor
said
, "the next few days in Virginia are going to be very, very difficult."
About 2.5 million Virginian customers, or an estimated 7.5 million people, in are still without power.
In Ohio, excessive heat, widespread power losses and utility damages prompted Gov. Kasich to declare a state of emergency. As of Saturday morning, about 1 million homes and businesses, or an estimated total of 3 million people, still faced power outages.
"I'm very concerned with the problems created by the combination of power outages and severe heat, and so I've declared an emergency for all of Ohio so that state resources and personnel can help local governments meet the needs and challenges that they face.
In Maryland, at least 800 people were left homeless after storms tore off the roofs of two apartment buildings in Riverdale Park,
said
Mayor Vernon Archer.
About 1 million utility customers in Maryland, an estimated 3 million people, were still without power early Saturday morning, "similar to the number that lost power in 2003 when Tropical Storm Isabel hit the state," said a report.
In West Virginia, where Gov. Earl Ray had already declared a state of emergency, some 700,000 customers, or an estimated 2 million people, are currently without power.
In Washington, the utility company Pepco reported more than 440,000 outages in the Capital and its suburbs.