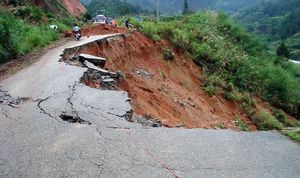 Several parts of China have been hit by torrential rains over the last few days, resulting in the evacuation of millions of people and property damage.
In east China's Zhejiang province, heavy rains have forced 17,000 people to relocate and affected the lives of more than 350,000 others since June 22. A 12-year-old girl was killed when her house was buried in a landslide on Saturday, June 23, in Zhejiang's Songyang county.
Rains have battered central China's Hunan province since June 21, killing one person, leaving another missing and affecting the lives of 138,000 others. A landslide was triggered in Hunan's city of Chenzhou, blocking roads and rivers and stranding 130 tourists, the report said.
South China's Guangxi Zhuang autonomous region has been reeling under heavy downpours since June 21. In the hard-hit city of Hezhou, over 10,000 people have been evacuated and economic losses of 200 million yuan ($31.4 million) have been incurred, according to officials.
More rain and storms are expected to hit Zhejiang, Fujian and Anhui provinces in south China, as well as Yunnan, Sichuan and Guizhou provinces in the south-west over the next three days, the weather office said.