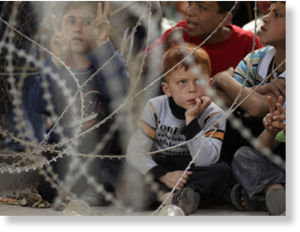 British lawyers have lodged a complaint at the UN against Israel for allegedly torturing Palestinian children. Their report showed youngsters held in solitary confinement and shackled while in the custody of the Israeli military.
­This is considered torture and in breach of the United Nations Convention on the Rights of the Child. A report funded by the UK Foreign Office claims Palestinian youths are routinely abused by Israeli authorities. A delegation of nine British lawyers revealed how Palestinians as young as 12 are treated when arrested and in Israeli custody. They spoke to UN agencies, former Israeli soldiers, Palestinian and Israeli NGOs and Palestinian children.
The report - Children in Military Custody - found that children are arrested by a number of soldiers normally in a night raid on their homes; they are then blindfolded with their wrists bound and transported to an interrogation centre face down on the floor of military vehicles.
"The majority are verbally and physically abused, without being informed of their right to see a lawyer or of their right to silence. They are sometimes held in solitary confinement and made to sign statements they can't read because they are written in Hebrew,"
the report says.
If Children are held for long periods in solitary confinement it is regarded as torture by the UN and is in breach of the United Nations Convention on the Rights of the Child.
Greg Davies, a children's rights barrister, who compiled and wrote the report told RT,
"the weight of evidence in favour of these allegations is considerable and complaints have been lodged at the UN".
Once in custody children have limited access to education and extremely restricted access to their family.
"Every year Palestinian children are traumatised, sometimes irreversibly"
the report states.
But Davies was told by Israeli military judges that Palestinian children are actually committing crimes so they end up in prison and get lessons, whereas the Palestinians, the UN and Israeli and Palestinian NGO's claim that in most prisons the Israelis don't provide children with any education.
"Palestinian children receive such a high standard of education that they have been known to offend just to access it,"
the judges said.
"
We didn't look at evidence of social and psychiatric harm to children, but I know there is a raft of evidence in relation to that,"
Davies explained to RT. A recent report by Save the Children found that Palestinian kids were suffering serious trauma as a result of the Israeli military occupation.
"
When you look at the trauma that would be caused by arrest in the middle of the night or being dumped at the prison gates [after interrogation] with no one knowing you were there then it would be very difficult as a child not to suffer psychological damage,"
Davies said.
The report also highlights a discrepancy in the law. There is one law for Israelis and another for Palestinians. Under the Israeli civil legal system an Israeli child cannot be imprisoned under the age of 14 and can get legal representation within 48 hours. Under Israeli military law, Palestinian youths are jailed as young as 12, and can be held for up to three months without access to a lawyer.
Davies believes this amounts to racial discrimination, "we found them in breach of Article 2 of the UN Convention on the Rights of the Child, it was evident there was discrimination," he said.
Davies explained that although they were only in court for a few hours on one day of their week-long visit they saw a child in leg irons.
"What was surprising was that they [the Israeli authorities] knew we were there that day."
An Israeli military prosecutor told the team of lawyers, "Every Palestinian child is a potential terrorist." This stance, Davies says, leads to a spiral of injustice, which only Israel as the occupying power in the West Bank can reverse.
A spokesman from the Israeli Embassy in London told the UK newspaper the Independent that Israel appreciated the efforts of the delegation but blamed Palestinians for "
glorifying terrorism"
. He added that as the Palestinian Authority will not investigate and prosecute alleged offences the Israeli military has no choice but to do so itself.
The UK government, which funded the report, said in statement, "We share many of the reports concerns and will continue to lobby for further improvements."