Landslides and flooding caused by heavy monsoon rains have killed at least 100 people in southern Bangladesh and many more are missing, the government said Wednesday. Officials said the landslides occurred mainly in remote villages with poor roads, making rescue work more difficult.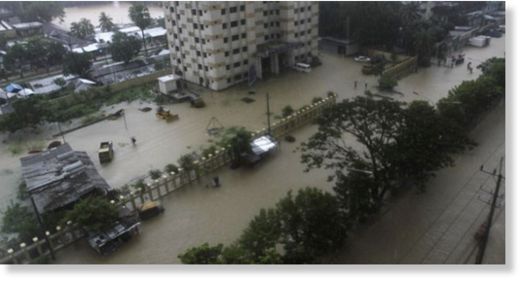 At least 37 died in Cox's Bazar, 33 in neighboring Bandarban and another 21 in Chittagong, mostly in a series of landslides, the Disaster Management Ministry said. It said soldiers were joining the search for the missing. Three days of pounding torrential rain in the region of small hills and forests dislodged huge chunks of earth which buried flimsy huts where families were sleeping late Tuesday and early Wednesday. Many homeless people live at the foot of the hills or in close proximity to them despite warnings from authorities.
Many of the dead were women and children, officials said. In Bandarban an 11-year-old boy was the only member of his family to survive because he was away when mud buried his hut. His parents and three siblings perished. Monsoon floods are common in Bangladesh, a delta nation of 160 million people. Volunteers using loudspeakers warned people about the danger of landslides during the rains, said Jaynul Bari, a government administrator. The floods inundated dozens of villages and were disrupting communications in the region.
Flood waters covered many roads and washed away a railway bridge, snapping road and rail links between Dhaka and the three districts. An airport in Chittagong was closed after floodwaters swamped its runway, but reopened Wednesday after the rains stopped, officials said.