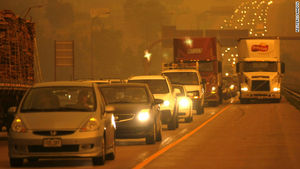 Firefighters again will battle inferno-like conditions on Wednesday as they try to tame an explosive wildfire that has already chased some 32,000 residents from their homes near Colorado Springs, Colorado.
"This is a firestorm of epic proportions," Richard Brown, the Colorado Springs Fire chief, said late Tuesday. Winds gusting to 65 mph through mountain canyons blew the wildfire through containment lines into northwest Colorado Springs on Tuesday afternoon.
Gov. John Hickenlooper surveyed the Waldo Canyon Fire, telling reporters it was a difficult sight to see.
"There were people's homes burned to the ground. It was surreal," he said late Tuesday night. "There's no question, it's serious. It's as serious as it gets."
The 6,200-acre fire remained only 5% contained. Officials labeled it as exhibiting "extreme fire behavior."
Evacuee: Wildfire 20 feet from home Evacuees watch and hope homes remain 'Smoke plume was coming toward us'
Becky Shormann has nervously listened to news reports since Saturday, the day the fire started prompting her to evacuate the area with her husband.
She hoped her home would be spared.
The family managed to take some sentimental items with them when they left, but still had to leave behind a boat, a pair of ATVs, a China cabinet and an antique doll collection.
"I keep telling myself: It's going to be okay," she said.
Schormann told CNN's "Anderson Cooper 360" that flames came to within 20 feet of their home but were beaten back.
"Our volunteer fire department is just awesome," she said.
The Schormanns are staying in an RV at their daughter's home. The family's two dogs, a pony and a donkey also came along for the ride.
The flames from the same wildfire also are dangerously close to the U.S. Air Force Academy campus. An evacuation order has been issued for about 700 residents in its Pine Valley Housing and 1,400 in Douglass Valley Housing, said public affairs officer John Van Winkle.
The academy's powered flight, glider and parachuting operations have been called off since Saturday so that the U.S. Forest Service could use runways for helicopters used to fight fires along Colorado's Front Range, Van Winkle said.
The academy's Class of 2016, all 1,045 cadets, will arrive Thursday.
"The fire conditions could not be worse," said Anne Rys-Sikora, spokeswoman for a multi-agency fire response team. "It is like a convection oven out there."
Colorado Springs set a record high of 101 on Tuesday as firefighters contended with brutal conditions, including ash falling on highways and neighborhoods. Officials rushed in crews and aerial equipment in a bid to slow the fire.
The forecast stays hot and dry for the foreseeable future, with daytime highs not falling out of the 90s until early next week, according to the National Weather service.
Dave Barjenbruch, a meteorologist with the National Weather Service office in Boulder, said the past week has been hellish across Colorado.
"Even in the foothills, where most of the fires are going on, most days have been in the single-digit humidity," he said.
Thunderstorms such as the one that fed the Waldo Canyon Fire on Tuesday are heavy on fire-feeding gusty winds and low on much-needed rainfall, Barjenbruch said.
Meanwhile, a new fire in Boulder, northwest of Denver, prompted pre-evacuation notices to 2,300 phone numbers.
Six other wildfires were active in the state, according to the Colorado Division of Emergency Management.
The largest of the fires was the High Park Fire, which began June 9 and has now consumed 87,284 acres, the U.S. Forest Service said. It was 65% contained Tuesday. The total number of homes lost rose to 257. An estimated $33.1 million has been spent trying to contain the blaze.
The Federal Emergency Management Agency authorized the use of federal funds to help fight the Waldo Canyon Fire after Colorado Springs and surrounding El Paso County declared an emergency, which allows them to receive state and federal aid.
A large section of Utah was under a red-flag warning, with at least three wildfires burning Tuesday.
Authorities said they found the body of one person after they entered the evacuated areas of the Wood Hollow Fire. The victim had not been identified, according to the Sanpete County Sheriff's Office
FEMA is providing funds to help fight the Wood Hollow Fire, which has grown to nearly 39,000 acres since starting Saturday afternoon. Containment was 15%.
West of Provo, Utah, the Dump Fire stood at 5,007 acres and was 100% contained, officials said.