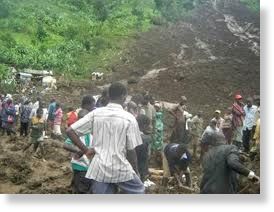 Many people were feared dead after villages were buried in a landslide on Monday in eastern Uganda on the slopes of Mt. Elgon, which straddles the Kenyan border.
Some media reports said about 10 people had been killed in the landslide while the area member of parliament, David Wakikona, told Reuters that up to 100 people could have been buried. This could not be independently verified.
"Three villages have been flattened in the Bumwalukani parish on the slopes of Mt. Elgon and the initial reports I have is that more than 100 have been buried," he said.