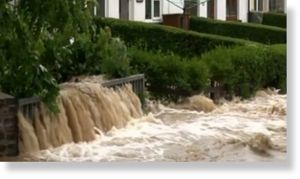 Parts of mid and north Wales have been warned they may be at risk of localised flooding as more heavy rain is forecast.
Downpours are expected on Friday and are likely to continue into Saturday, Environment Agency Wales said.
It added that recent rainfall in the area means rivers may rise quickly and that it may lead to flood warnings.
Agency officers are checking flood defences and that rivers and streams are clear of blockages.
Devastating floods hit parts of mid and north Wales earlier this month after extreme localised flooding.
Environment Agency Wales said that the latest rain will be heaviest in mid and north Wales.
It said that a concentrated weather system of extremely heavy rainfall is currently forecast for the north west of England, not far from the Welsh border.
"Current predictions indicate that the heaviest rainfall will largely affect English counties, however, there is a risk that the weather system may move, bringing heavier rain into parts of north east Wales," the agency added.
Westerly winds
The outlook for the weekend remains unsettled.
From Saturday evening into Sunday morning, a second band of heavy rainfall is also likely to affect parts of southern and west Wales.
BBC Wales weather presenter Sue Charles said reaching the summer solstice had done little to bring better seasonal conditions.
She said: "We're officially into summer now but it's not going to feel like it over the next few days, with it often wet and windy."
She said brisk westerly winds on Friday could reach gale force on exposed coasts and hills.
This month has seen floods in parts of mid and north Wales.
Aberystwyth and nearby villages such as Talybont, Dol-y-Bont and Llandre were badly affected, while parts of Ceredigion were hit by 5ft (1.5m) of flood water.
Some families
say they may be out of their homes
for up to nine months while the damage is repaired.
Environment Agency Wales has urged people to keep up to date with the latest flooding information, through news broadcasts, its dedicated Floodline on 0845 988 1188 or through its
website
.