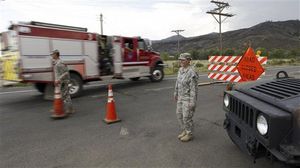 Denver, Colorado - Reporters covering northern Colorado's massive wildfire cannot enter areas that have been evacuated - an unusual restriction even for this state, where local officials have extensive powers at fire scenes and journalists are usually kept miles from the flames.
In Nevada, a newspaper photographer covering a brush fire this week was roughed up, handcuffed and cited for obstruction, his editor said. The newspaper is preparing a formal complaint.
Tension between news organizations and authorities is commonplace during emergencies, including wildfires in the drought-stricken West. But in many cases, journalists seeking to tell firefighters' and victims' stories face strict controls on the flow of information.
Law enforcement holds the upper hand, said Kelly McBride, who studies journalism ethics.
"Most of the time public officials are eager to show they are upholding their duty, so they grant journalists some kind of access," said McBride, a senior faculty member at the Poynter Institute, a journalism education foundation. "But there's nothing that says they have to grant journalists access."
Tim Dunn, photo editor of the
Reno Gazette-Journal
, was covering a grass fire that destroyed two homes in Sun Valley when Washoe County deputies detained him in handcuffs Monday, said Beryl Love, the newspaper's executive editor.
Love told The Associated Press Dunn was complying with a deputy's directions to move when he was forced to the ground and his face pushed into some gravel.
Barry Smith, executive director of the Nevada Press Association, said he was outraged by the incident.
"There are occasionally disagreements over where people should be and how much access there is, but I've never heard of a deputy actually beating up a photographer," he said.
The sheriff's department confirmed Dunn was detained and cited but declined to comment further.
In Colorado, Larimer County Sheriff Justin Smith has cited safety reasons and residents' privacy in keeping reporters, TV camera crews and still photographers out of the High Park Fire evacuation zone until residents see their homes first.
"Our philosophy is the citizens need to see the damage and destruction before the general public," said Nick Christensen, executive officer for the sheriff's department.
Smith also has barred reporters from briefings he gives to the evacuated residents. At some of these meetings, residents are told the bad news that their houses have burned down.
Journalists say the Colorado restrictions are too strict and hurt their ability to report.
"I'm sympathetic to their desire to help the victim," said Joey Bunch, a reporter for
The Denver Post
. "I'm not sympathetic to their desire to control what's going on."
Bunch, a 27-year-veteran who has covered numerous natural disasters, said the Larimer sheriff's restrictions are "the most concerted effort I've seen to get between the press and the victims."
At some previous wildfires in Colorado and in other states, authorities have escorted news media into evacuation zones before residents or the general public was allowed in, sometimes while the fire is still active.
With the current fire, "They're robbing the victims of the chance to tell their story," Bunch said. "The larger public isn't being able to fully appreciate the size of the fire and the size of the tragedy because the story isn't being told."
Fire management teams routinely try to get journalists safe access to fires to get the news out, said Mike Ferris, a public information officer for the National Interagency Fire Center in Boise, Idaho.
"Generally, I'll do everything I can to get you access to get your story," he said.
Rules for media access vary from state to state and even from wildfire to wildfire. In California, state law allows news organizations virtually unfettered access to fires. Other states leave the decisions up to the agency responsible for the land involved.
In Arizona, the incident commander in charge of the firefighting effort has the final say. News personnel must have an escort. Utah and Idaho have no laws restricting or guaranteeing access but officials usually work with news organizations.
In Colorado, state law puts the county sheriff in charge of fires on state and private land in unincorporated areas if the fire exceeds the capacity of a single fire department, officials said.
If a Colorado sheriff asks the National Interagency Fire Center to dispatch an incident management team to a fire, the sheriff decides what responsibilities to delegate to the team. In Larimer County's case, Sheriff Smith retained responsibility over media access.
The fire has destroyed at least 189 homes - the worst wildfire property destruction in Colorado history - and blackened 92 square miles since it was sparked by lightning June 9.
In one incident, the sheriff's department withheld for 24 hours a video recording, made by a fire official inside the evacuation zone using an NBC News camera and tape. NBC News producer Jack Chesnutt said he thought he would get the tape back immediately to share with other news outlets.
Christensen, the sheriff's executive officer, said the department always intended to show the video to evacuated residents before returning it.
"These are not the conditions that I thought we had agreed to when we handed them the camera," Chesnutt said. He called the High Park Fire coverage restrictions "unprecedented."
Evacuated residents expressed mixed feelings about the media, saying they want their privacy respected but also want news coverage of the fire and its aftermath.
"I have gotten more information, and I'm sure some of it is misinformation, through the media than I have through the sheriff and through the authorities," said Jeff Corum, whose home was destroyed.
But, he added, "there's really not any of us that want to sit around and talk" about losses. "We're private people, so it's nobody's (expletive) business, pardon my language."
Tom Knab, who was evacuated but has been told his house is still standing, expressed wariness about the restrictions. But he said he would be angry if his house and been destroyed and a news crew got to see it before he did.
"This is a local community. This isn't the White House burning," Knab said.