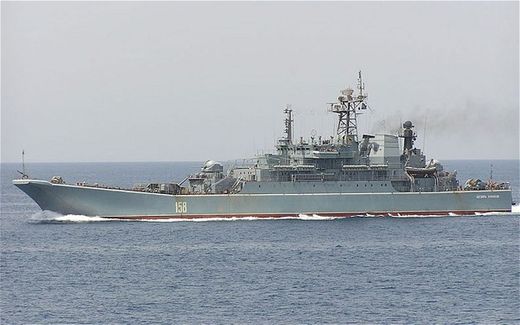 Russia is preparing to send two amphibious assault ships to the Syrian port of Tartus according to the Interfax news agency.
The move is seen as an attempt to ensure the safety of Russian nationals stationed at the strategic naval base Moscow operates on Syria's Mediterranean coast.
An unidentified officer confirmed that "Two major amphibious ships - The Nikolai Filchenkov and The Tsezar Kunikov - are preparing to be dispatched to Tartus outside of their schedule."
It is believed the two ships will be carrying a large group of marines and could be used to evacuate Russian citizens and property. There has been no official confirmation of the report from the navy or the defence ministry.
The deployment of the two ships is a sure sign of the deterioration of the situation in Syria as the country descends into all-out civil war.
The Syrian Observatory for Human Rights has confirmed that government forces continued to bombard rebel positions in Homs and Damascus on Monday, despite warnings by the UN that such actions amount to crimes against humanity.
Meanwhile, US President Barack Obama, is due to meet his Russian counterpart Vladimir Putin at the G20 summit in Mexico to discuss differences over what to do about the escalating conflict.
According to the Observatory, 67 people were killed in clashes across the country over the weekend.
Government forces bombarded rebel positions in Homs province and in eastern Deir Ezzor. A member of the Local Coordination Council (LCC), made up of opposition activists on the ground, confirmed that the town of Qoudsaya in Damascus province had come under "heavy shelling" and that "snipers are shooting at any moving object".
Another member told AFP that the Syrian army had "imposed a suffocating blockade" on the areas around Qoudsaya and that "huge military reinforcements" had arrived in the town.
He added that the wounded could not be treated due to the intensity of the shelling and sniper fire.
Regime forces backed by aircraft also pounded a region known as the Kurdish Mountain in the northwest province of Latakia for more than seven hours forcing many residents to flee, according to the Observatory.
The escalation of violence over the weekend has prompted UN observers to suspend their monitoring mission in the country. Leader of the UN mission in Syria, Major General Robert Mood also admitted that "attempts to extract civilians" from the besieged city of Homs over the past week had been unsuccessful.
Meanwhile, speaking at the opening of its 20th session, UN rights chief Navi Pillay has accused the Syrian government of crimes against humanity and "possible" war crimes. She also asserted that those responsible for attacks on UN observers in Syria must be brought to justice.
More than 14,400 people have died in the 16-month uprising against the regime of President Bashar al-Assad, according to the Observatory.