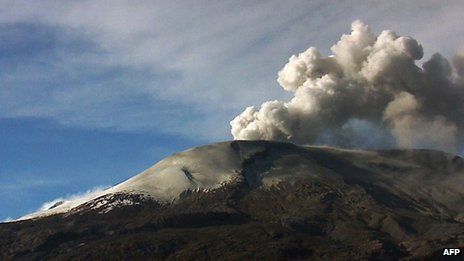 Plumes of smoke and ash are continuing to rise from Colombia's Nevado del Ruiz volcano.
People living on its slopes said they had heard "strong, strange noises" coming from the summit of the 5,346m-high mountain on Friday and Saturday.
Officials say an orange alert first declared three weeks ago is still in place for areas near the summit.
More than 25,000 people died in a mudslide caused by Nevado del Ruiz in its last eruption in 1985.
Officials have distributed 30,000 face masks to residents living in areas affected by ash from the volcano.
Deadly mudslide
The airport in the nearby town of Manizales, in central Colombia, has been closed since the end of May, and will remain so until the volcano ceases to emit ash, officials said.
The Volcanic Observatory in Manizales said the plume of ash and gas had risen to a height of 2,000m (6,500ft) on Sunday.
Scientists at the observatory warned there was a risk of an eruption "within days or weeks".
Some 150 families have been evacuated from the banks of the rivers which flow down the volcano, as they were deemed to be most at risk.
In the 1985 eruption, the small town of Armero on the banks of the Lagunilla river was almost completely erased as summit glaciers and snow were melted by hot lava.
The water raced down the slopes carrying rocks, mud and vegetation in a destructive mudslide travelling at a speed of 60km/h (37mph).
Only a quarter of Armero's population survived.