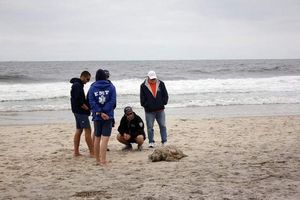 Four dead sea turtles washed ashore on beaches along New Jersey Sunday, according to the Marine Mammal Stranding Center.
Three loggerhead sea turtles and one leatherback sea turtle were among those found at beaches in Spring Lake, Island Beach State Park in Berkeley, North Wildwood and the Townsends Inlet area of Sea Isle City, said Sheila Dean, co-director of the Marine Mammal Stranding Center.
The three loggerhead sea turtles found weighed between 30 and 45 pounds each, she said. The leatherback, found in Townsends Inlet, weighed about 245 pounds, Dean said.
The turtle deaths did not appear unusual, she said.
"It just has to do with the tides and the winds and the seas," Dean said.
Sea turtles migrate north each summer to follow their food sources, she said. They have arrived early in the season, most likely due to warmer than normal ocean temperatures, she said.
According to a sea surface temperature map that charted temperature abnormalities for the National Oceanic and Atmospheric Administration, ocean temperatures off the coast of New Jersey were as much as three or four degrees warmer than normal.
The National Oceanographic Data Center recorded ocean temperatures Sunday of 74.5 degrees in Sandy Hook, 69.3 degrees in Atlantic City and 75.7 in Cape May. Average temperatures for late June in Sandy Hook are about 63 degrees, 64 in Atlantic City and 69 in Cape May.
Dean advises anyone who encounters a sea turtle to call the Marine Mammal Stranding Center at 609-266-0538. Even if an animal is dead, center staff and volunteers photograph and measure each, she said.
"One of the things that happened today, someone attempted to take one of the turtles away," said Dean. "It's against the law. Even when they're dead, they're protected and endangered species."
The larger leatherback turtle is on the endangered species list, and loggerhead turtles are considered a threatened species, according to the U.S. Fish & Wildlife Service. Both are protected by law, Dean said.