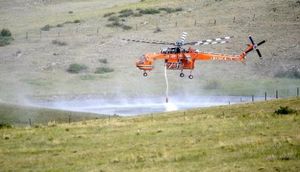 Bellvue, Colorado -- The number of homes destroyed in the giant High Park Fire west of Fort Collins jumped to 112 on Friday after fire officials were able to get a better assessment of the damage wrought by the nearly week-long blaze.
The largest number of homes lost -- 40 in all -- were in the Whale Rock area, according to Larimer County sheriff's spokesman Nick Christensen. Another 21 homes were destroyed in the Stratton Park area.
"That number will continue to grow," Christensen said.
An updated list of burned homes likely will be released Saturday after families are notified, he said. Areas currently being assessed for damage are Redstone, Buckhorn Road and Lawrence Creek, Christensen said.
This morning's official tally of burned homes was 48. The High Park Fire's containment figure of 15 percent and size of 52,000 acres didn't change at Friday afternoon's briefing.
The spot fire that jumped the Poudre River late Thursday afternoon doubled in size Friday, from 100 acres to 200 acres. Brett Haverstick, spokesman for the federal risk management team, said 195 firefighters alone were working that one section of the blaze to make sure it didn't make further progress north toward the 500-home Glacier View subdivision.
Several hundred homeowners were evacuated from the Glacier View community Thursday.
A total of 1,400 personnel, including five Type 1 hotshot crews, are battling the High Park Fire. They are being assisted by 15 aircraft that are either igniting backburns on the periphery or dropping water or retardant on the flames.
Up on Red Feather Lakes Road on Friday afternoon, Brian Fetterman and his 3-year-old son waited for firefighting helicopters to suck up water from a pond near the road. He and his fellow residents in the 7th Filing of Glacier View remained on pre-evacuation notice.
"We have been packed up and ready to go," he said. "I knew it was going to be a rough summer. It's been one fire after another. But it's a fact of life -- if you live on the beach, you worry about hurricanes. If you live in the mountains, you worry about fire."
Cheryl Franz, who owns the Western Ridge Restaurant & Resort west of Livermore, said business has been booming since the High Park Fire began last Saturday. She said people are coming to the remote restaurant for information and "moral support."
Franz said she is providing campsites at her resort for five families evacuated from the Glacier View neighborhood.
"This is definitely the first time something like this has happened," she said.
A thunderstorm rolled through the High Park Fire zone this afternoon, sending down streaks of lightning and kicking up wind -- but providing little rain.
Fire weather meteorologist Dave Lipson, with the National Weather Service, said firefighters got some help Friday with increased levels of humidity, but a dry streak is expected to settle over the area again starting Sunday.
On Monday and Tuesday, he said strong winds -- with gusts of 50 mph on the ridgetops -- could once again complicate the fight against the fire.