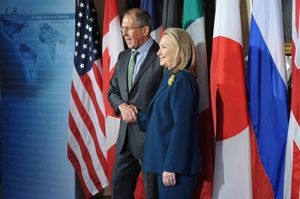 Responding to claims made by US Secretary of State Hillary Clinton, the Foreign Minister stated that Russia complies with international law and is merely fulfilling previous obligations with Syria related to air-defense systems.
Speaking in Tehran on Wednesday, Lavrov was unequivocal about Russia's military trade relationship with Syria, which is presently involved in protracted hostilities between pro-government and opposition forces.
"I already said during one of the news conference in Moscow several days ago that we are now finishing the fulfillment of contracts that were signed and paid for a long time ago. All of (the contracts) are solely for means of air defense
,"
Lavrov told reporters in Tehran after talks with Iranian Foreign Minister Ali Akbar Salehi.
Russia supplies Syria "only with something that Syria would need in the event of an armed attack on it from without," the minister added.
Lavrov stressed that Clinton's comments were at direct variance with Pentagon reports.
"
I would draw your attention to the fact that after that statement by Clinton the official spokesman of the Pentagon said there was no such information in the Pentagon
,"he said.
Lavrov denied that Russian weapons exports to Syria violate any international treaties. Nor do they contradict export legislation, he said, mentioning that Russia is internationally respected as having one of the world's strictest set of export laws.
"We don't supply Syria or anyone else with things that are used to fight against peaceful demonstrators, unlike the United States, which regularly supplies that region with such special equipment,
"
he said.
Lavrov then referred to
one such US shipment that "went to one of the Gulf countries recently,"
something that the "Americans consider...to be acceptable," he said.
Meanwhile, the sole intermediary agency for Russia's export and import of defense-related products, Rosoboronexport, refused to comment on Clinton's remarks. However, they mentioned that the company does not supply military equipment to foreign countries that fall under international sanctions.
"Rosoboronexport as a state intermediary of the Russian Federation does not supply to foreign countries weapons and military equipment in breach of the UN Security Council requirements and other international agreements," an official representative of Rosoboronexport told Interfax-AVN on Wednesday.
While Washington seems to be throwing its weight behind the Syrian political opposition, Moscow, which has refused to openly take sides in the conflict, is calling for both sides to abide to the conditions set down by the Annan ceasefire plan.
Set out by former Secretary-General of the United Nations Kofi Annan, the plan calls for both sides to immediately lay down their arms.
Meanwhile, Konstantin Makiyenko, deputy director of the Center for Strategies and Technologies Analysis, said the US has no moral right to lecture Russia on weapons supply to Syria, adding that the helicopters Clinton was talking about likely underwent maintenance in Russia.
"Even if we assume that combat helicopters are now indeed being passed to Syria, this action would not at all contradict the current norms of international law dealing with weapons trade,"Makiyenko told Interfax-AVN on Wednesday.
The Russian analyst went on to say that the United States, which provides military weapons to many global hot spots, has no right to lecture Russia on the subject.
The US"sells huge amounts of weapons to the repressive Saudi regime, which took part in the tough suppression of peaceful Shiite protests against the despotic regime in Bahrain,"
Makiyanko said. "Systematic suppression of the opposition takes place in Saudi Arabia. The US has no moral right to lecture Russia on who should get weapons and who should not."
During
her public appearance with Israeli President Shimon Peres, Clinton
said the supply of helicopters will lead to a sharp escalation of the conflict in Syria.
Meanwhile, "Russia has recently refrained from supplying weapons to Syria that could play a decisive role in the authorities' fight against illegal armed groups, which are financed and supported from abroad," Makiyenko added.
The Russian arms expert went on to say that Clinton's comments are part of a broader western "media war" being waged against Syrian President Bashar al-Assad.
"If the statements made by State Secretary Hillary Clinton have any relation to reality, she most likely meant the supply of helicopters that underwent maintenance in Russia. In general, the US state secretary's invectives are in line with the broad media war waged in the West against Bashar Assad's regime," Konstantin Makiyenko said.