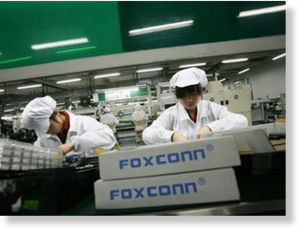 A Foxconn worker fell to his death in China, the company which assembles products for Apple said Thursday, following a series of fatalities that sparked concern about conditions at its plants.
The 23-year-old, identified only by his surname Xie, fell from his rented apartment in the southwest Chinese city of Chengdu on Wednesday, according to a statement released by Hon Hai Precision Industry, Foxconn's parent company.
It said the cause of the tragedy was not immediately clear and Chengdu police were still investigating.
Taiwan tech giant Foxconn, which assembles products for Apple, Sony and Nokia, has come under the spotlight after suicides and labour unrest at its Chinese plants since 2010.
At least 13 employees died in apparent suicides in 2010, followed by several others in 2011. Activists blamed tough working conditions, leading to calls for better treatment of the company's staff.
Although Foxconn denied the accusations, it raised wages by nearly 70 percent at its China plants in 2010.
Foxconn employs about a million workers in China, roughly half of them based in its main facility in Shenzhen, which borders Hong Kong.
In order to reduce its reliance on labour, Foxconn has planned to use one million robots to do "simple" work, China Business News has quoted chairman Terry Gou saying.
Foxconn currently has 10,000 robots doing painting, welding and assembly tasks. It will increase that number to 300,000 next year and to one million in 2014, the report said.