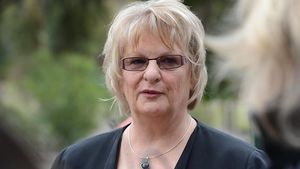 A primary school has banned pupils from touching each other. Those caught giving high fives, hugging, playing tag, basketball or football are punished with "counselling sessions".
Mt Martha Primary School in Victoria is refusing to back down over the policy, despite opposition from parents and child psychologists who have called the policy "ridiculous", "over the top" and "crazy".
Parents did not get a memo about the policy until told by upset children this week.
But principal Judy Beckworth said the community had overreacted, adding: "I don't see what we have done as unreasonable."
Students caught breaking the no-contact policy were taken from the playground and lectured about safety and the risks of rough play. "They are given time to reflect. It's like a counselling session," she said.Ms Beckworth was ordered to undergo her own counselling by the Victorian government after threatening to cut the school's curriculum if parents do not make voluntary payments. Another time the school demanded parents pay a $200 fee to cover toilet rolls, tissues and use of the oval.
Year 6 students were this week removed from the oval after they protested about the no-touch policy, which ends on Monday, and were given a "dressing down".
One student was reprimanded on Wednesday after putting his arm around his mate, who was winded.
The mother of the winded boy said: "This is crazy and out of control."
Child psychologist Andrew Fuller said the policy was "over the top".
"We need to teach kids how to be compassionate, exuberant and appropriately close to people when in need,"
he said.