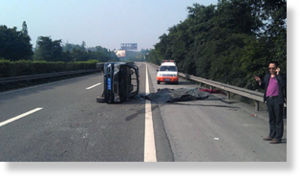 China - Police thought they'd stumbled on a serial killer when a pick-up truck overturned on a motorway - and 16 bodies tumbled onto the tarmac.
Police sealed off the road in Luozhou, Sichuan province, China, but abandoned a murder hunt when the driver turned out to be a professor from the city's medical school who'd bought the bodies for his students to use in class.
"They began to go off pretty quickly once they were stretched out in the sun. The smell was sickening," said one motorist.
Police summoned ambulances from a nearby morgue to take the bodies to their their final resting place - in the college fridge.
Now the college is facing furious public criticism for carrying bodies "without dignity" on the back of a truck.
A spokesman for the Luozhou Medical School said:"We bought the bodies legally and fairly.
"They are the remains of unclaimed murder victims, street people who have died and criminals who have been executed."