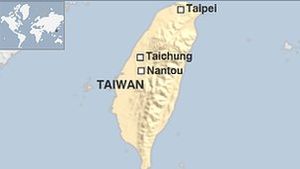 At least six people have been killed after flooding hit Taiwan.
Torrential rain brought floods to counties in numerous parts of the country, forcing thousands of people to evacuate their homes.
Taiwan's Central Emergency Operation Centre said more than 7,000 people were moved, with the help of the military, according to Reuters news agency.
The flooding caused landslides, as well as power cuts and water shortages to tens of thousands of homes.
The emergency centre said flooding had caused power cuts to more than 87,000 homes and water shortages to 12,000.
While it was reported that six people had died, a further two were said to be missing.
The Associated Press said two people had been killed in a makeshift shelter in a landslide in Taichung, while two more were killed in landslide in Nantou county.
Reuters said the agricultural loss to the country had been estimated at more than NT$172m ($5.76m/£3.69m).
Taiwan's Central News Agency quoted President Ma Ying-jeou as saying those losses would be compensated.
He said this would take place through more generous subsidies and an easier application process for funding.
Taiwan's Ministry of National Defence has more than 47,000 personnel ready for relief assistance, according to the Taipei Times.
The newspaper said 411 rivers across the country had been placed on red alert for mud flows with a further 416 on yellow alert.