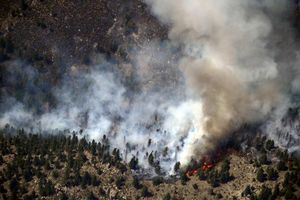 Laporte, Colorado - Firefighters attacking the complex High Park fire are using a century-old battle plan, bolstered by modern-day technologies.
Using picks and axes, wildland teams are methodically scratching barriers into the dirt and lighting back fires, while helicopters aided by satellite imagery drop water and tankers douse areas with chemical retardant.
They're trying to pin down the monster at an anchor point, building a line to flank in the beast and pinch off its head for total containment.
"If you go out and throw people all around it then it's wasted effort," said David Liebersbach, a former Type 1 incident commander and past director of Alaska's emergency services. "You find a point where you can anchor in. You work out from that in a continuous line so you don't have a chance blowing out."
But this fire, with its ever-shifting boundaries and multiple heads, isn't a textbook case.
"This fire ... we got a mess. It's so doggone big," , said Bill Hahnenberg, the Type 1 Incident Commander leading the battle against the High Park fire said, explaining his attack on the fire that seems to be spreading every direction in tinder-dry forest.
Crews are trying to establish several anchor points, including where lightning ignited the fire Saturday morning. The idea is use natural barriers like roads, creeks or cliffs so the squirrly fire can't hook around and trap firefighters as they move forward, he said.
The technique dates to the Big Burn, a 1910 blaze that chewed through 3 million acres in Washington, Idaho and Montana.
While lines are being carved in the dirt, other crews are spending time defending structures, lighting back burns and fighting the blaze with engines. About 100,000 feet of fire hose is being used on this fire, Gov. John Hickenlooper said Tuesday at a press briefing after touring the fire.
Hickenlooper later declared the High Peak fire a disaster and authorized up to $20 million to fight it. As of Tuesday afternoon, about $1.6 million had been spent.
"There is no doubt we have the top firefighters in the country working on this fire," he said after the tour.
On Tuesday morning officials said the fire was about 5 percent contained and crews hoped to have 10 percent containment by Wednesday. Hahnenberg said the fire may not be totally under control - meaning all hot spots extinguished - until the fall.
"Containment is when we are reasonably sure that we have good fire line constructed and heavy burning fuels mopped up or pulled away from the line 100 feet," he said. "We know that is a good section of line down to the mineral soil where the fire can't creep across."
Sometimes lines
The fire won't be considered controlled until crews are "very confident" that all the heat on the line is gone and cannot be detected by feeling the ground with a hand. "That comes later," Hahnenberg said.
"Our goal is 100 percent containment," he said. "The likelihood of control before fall is slim."
Hahnenberg said the crews may never get containment of the western flank of the fire that is in remote Forest Service land with few structures and vast stands of beetle-killed timber.
"We may work with it as it goes into that more remote country," he said.
Hahnenberg said his greatest concern over the next few days is if another red flag warning day occurs - where winds and hot temperatures combine to blow up the fire that is already burning in parched vegetation.
"This fire could gain significant additional acreage," he said, adding that he isn't concerned if the fire heads west, but any other direction would be in the direction of homes.