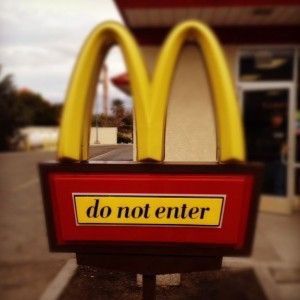 Today in Oak Brook, Illinois the world's most well-recognized purveyor of unhealthy food will hold its annual shareholders' meeting. Usually a forum to showcase profits made at the expense of the public's health, food advocates and health professionals will be giving the burger giant's dog and pony show pause.
For a second straight year, shareholders will vote on a
resolution
requiring McDonald's to publicly assess its impacts on the nation's health. The resulting report would, no doubt, be damning. After all, no fast food corporation sells more high-fat, -salt, -sugar, and -calorie junk food worldwide. No fast food corporation spends more marketing its unhealthy offerings. And perhaps no food corporation has had a greater impact on how we eat or how food is grown.
As
Fast Food Nation
author Eric Schlosser puts it: even if you don't eat McDonald's-style fast food "you're eating food produced by the same system." In other words, McDonald's, as the nation's leading purchaser of staples like beef, pork, and potatoes, isn't just putting unhealthy food on plastic trays, it's shaping the unhealthy methods by which its produced. Factory farms, the overuse of pesticides - you name it - McDonald's is in some way behind it, including the harm to animals, our drinking water, the environment, and our health an externality.
That's why this first-of-its-kind resolution is so groundbreaking. It would give us a sense of what a Big Mac and fries truly costs. Not only that, it would give shareholders a sense of the financial risk the corporation could ultimately face for continuing to saddle the public with its externalized costs.
As recently documented in AdAge,
McDonald's brand image is out of sync with sales
, with McDonald's consistently ranking near the bottom of its industry in quality perception. Analysts warn if this trend continues the pendulum could well swing for the corporation's profitability.
Dr. Andrew Bremer, a pediatric endocrinologist and professor of pediatrics at Vanderbilt University Medical Center, will speak to these points at the meeting. He is part of a growing network of more than
2500 health professionals
that are partnering with my organization,
Corporate Accountability International
, to compel industry-leader McDonald's to change course as the corporation's leadership changes hands. CEO Jim Skinner will be stepping down this month, with COO Don Thompson stepping in.
Corporate Accountability International and partners like Dr. Bremer see no reason to wait for the results of the resolution-sanctioned report to come in for the new CEO to reduce the corporation's "health footprint." For one, there is a growing body of research, including a recent
Institute of Medicine study
, highlighting the importance of limiting junk food marketing to children and adolescents in reducing disease rates. To this end the network has called for McDonald's to stop marketing junk food to kids, helping compel the American Academy of Pediatrics to take an even more strident stance - an outright ban on junk food marketing to kids.
And most recently, the network
called on hospital administrators to give McDonald's franchises the boot
. Cleveland Clinic led the charge - affirming it would not renew McDonald's contract. A study in the journal
Pediatrics
has found that citing fast food in health care settings earns brands like McDonald's an undeserved association with healthfulness. Needless to say, McDonald's has long built brand loyalty by nutriwashing its image - a practice that needs to stop.
Grassroots pressure is only building. Since the initial introduction of the resolution at last year's meeting, McDonald's
has made changes to its Happy Meals
and
competitors have scaled back their marketing to kids
.
As these things go, resolutions are not expected to pass over the opposition of the Board. But bringing it to the floor before shareholders will again put the corporation on notice, compelling CEO Thompson to lend a more sympathetic ear to the concerns of health care providers and Civil Eats readers like you.
Click here to call
on hospital administrators to give McDonald's the boot.
Click here to call
on McDonald's CEO to stop marketing junk food to kids.
Corporate Accountability International (formerly Infact) is a membership organization that has, for the last 35 years, successfully advanced campaigns protecting health, the environment and human rights. Value [the] Meal is Corporate Accountability International's campaign dedicated to reversing the global epidemic of diet-related disease by challenging the fast food industry to curb a range of abuses.
About the author
Sara Deon is the director of Corporate Accountability International's Value [the] Meal campaign. She works with public officials, health professionals, thought leaders, and members across the continent to challenge Big Food's abuses and secure food policy reform.