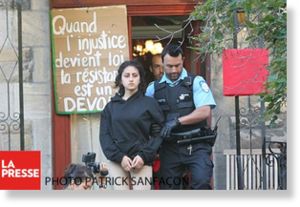 The activist daughter of a Quebec politician, facing charges following disruptive protests and vandalism, will spend the weekend behind bars.
Yalda Machouf-Khadir faces 11 charges in connection with different events - including break and enter, conspiracy, mischief, assaulting a police officer and assaulting a news photographer.
The 19-year-old daughter of Amir Khadir, the sole elected member of the left-wing party Quebec solidaire, looked bored as she leaned against the prisoners' dock, resting her head in her hands.
The Crown objected to her release and to the release of all but one of the people arrested this week for similar activities, so they will spend the weekend in jail until bail hearings Monday.
The charges against Machouf-Khadir stem mainly from vandalism at the offices of former education minister Line Beauchamp, and from a separate case at Universite de Montreal.
Also charged on Friday were Xavier Beauchamp, 20; Simon Langlois, 32; Zachary Daoust, 22 and Andrea Pilote, 22. All five have pleaded not guilty.
Defence lawyers questioned the timing of the arrests and the multi-day detention - which means most will remain behind bars until after the Canadian Grand Prix in Montreal this weekend. Protesters have promised to disrupt the high-profile event - considered the biggest and most lucrative annual tourist event in Canada.
"It's part of a spectacle orchestrated by the Montreal police," said lawyer Denis Poitras, noting that Machouf-Khadir checks in with police every Monday as part of a previous bail condition when she was recently arrested after students stopped traffic on Montreal's Jacques Cartier Bridge.
"If they wanted to arrest her before, they could have easily done so. We understand that the arrest had everything to do with sending a message before the Grand Prix this weekend."
The police force wanted to send a message, Poitras said. The Crown did not comment on Friday. Montreal police have denied the arrests were timed with the F1 weekend activities.
"There are charges of assault and mischief," Poitras noted. "The accusations aren't banal as is, but when the weapon is a stick from a (protest) sign, that's not exactly a baton."
Student protests have been going on for well over 100 days. Many people are also up in arms over Bill 78, a temporary law introduced by the Charest government that sets rules on protesting.
Machouf-Khadir's arrest came after her father was detained and fined during a protest declared illegal by police in Quebec City on Tuesday.
While Amir Khadir was not present Friday his wife, Nima Machouf, was there with a few dozen supporters.
Machouf acknowledged reporters Friday but didn't speak to them. She had told media a day earlier that she was worried her daughter's arrest came with the territory when one was involved in such a "resistance."
Amir Khadir has been one of the most outspoken critics of Bill 78 and the clan's downtown Montreal home has a sign on the front balcony that reads: "When injustice becomes the law, resistance becomes a duty."
Source: The Canadian Press